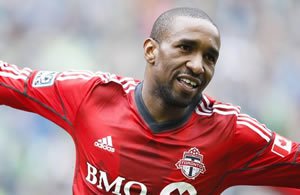 With TFC missing last season's MLS playoffs, what are the odds football star Jermain Defoe returns to the Toronto Football Club?
What was the Premier League's loss, was undoubtedly Toronto FC's gain, or was it? Having spent a lot of his time warming the bench at his former club Tottenham Hotspur, Jermain Defoe was to finally move on and not just to any other Premiership rival. Oh no, they may just play him for a full 90 minutes with Defoe coming back to haunt them with his lightning speed and goal prowess.
Time to make a big time move to join the host of International Superstar veterans in the MLS. But wait, will Jermain Defoe do a Frank Lampard, who after signing for New York City FC, returned to play for Manchester City?
Defoe Joins Toronto FC
Defoe has been an undoubted hit since he joined Toronto FC. Opening up his goal scoring account on the 15th March 2014 with 2 goals in his MLS debut against Seattle Sounders with a 2-1 win for Toronto, he was to notch up a total of 11 goals, all coming in his first 16 games for the club.
These are enviable stats as any soccer fan will agree. Granted, these were not goals scored in the Premiership, so it could be argued the competition wasn't so stiff, but add that to the century of goals he had already scored in the Premiership, it can be seen that this super fit 32 year old still has plenty of mileage left.
During last season's U.K. soccer transfer window, It was speculated that Defoe was unsettled. It also ensued, that this probably wasn't being helped by the interest of one of his former managers, Harry Redknapp.
Redknapp, at that time manager of Championship promotion hopefuls Queens Park Rangers, was looking to add some fire power to his strike force in their push to reach the premiership. His move back home, seemed to pick up steam and the transfer seemed to be on the cards, only for Defoe to say he was committed to the Toronto cause of reaching the playoffs. Now that's out of the way, what happens next?
With Queens Park Rangers having gotten promotion and now languishing second from bottom, Jermain Defoe is once again linked to be reunited with Redknapp.
Odds Are On Queens Park
Current odds with BetVictor are +125 for a return to Queens Park and even money with other potential relegation club. With regards to him staying with Toronto FC in spite of them saying they wish him to stay, the odds on that happening are nine to 1, or unlikely to put into layman's terms. If you're into gambling on long (or longer) shots, this could be a winner, but chances are we'll only see Jermain returning to the city in a Premiership jersey.
The strange thing looking on Odds Checker is why only Skybet and BetVictor are laying odds. There are over twenty other bookies and sportsbooks that are offering no price at all on Defoe staying or moving anywhere, how could that possibly be? This is very odd indeed, to say the least. Is it possible they know something that no one else does? All soon will be revealed.