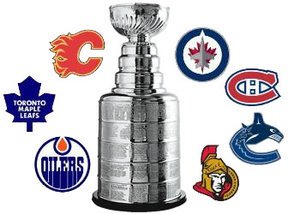 Hockey is very much a Canadian game, although Americans have kind of adopted it as their own. There are six National Hockey League teams that are based in Canada, and at least two of them  - the Montreal Canadiens and Toronto Maple Leafs - have a long history and tradition. They have met each other five times in the Stanley Cup finals, which actually was not all that difficult back in the days when there was a six-team league.
Stanley Cup Champs : Montreal 13 to 1 or Calgary 35 to 1
All told, Canadian NHL teams have accounted for 51 Stanley Cups, and among those clubs that still exist, Montreal heads the pack with 24, followed by Toronto with 13 (but not since 1967), the Edmonton Oilers with five, and the Calgary Flames, who won the Cup in 1989. In fact, that was the last season in which two Canadian-based teams met for the Stanley Cup. And 1993 marked the last year a Canadian team (Montreal) won it all. Â
All Canadian Finals Odds : 90 to 1
Is it possible that we could be seeing an all-Canadian Stanley Cup final again? Well, a quick check of the NHL standings about a third of the way through the season seems to indicate that there are a few teams in contention. Â It's currently 90 to 1 against seeing Montreal and Vancouver battle, so knock wood if you are superstitious. However, the odds are short (6 to 1) that the Habs win the East. Bookmakers like Bet365 see the Canucks having a tougher time to make this happen. Vancouver fans get to show their support with their wallets, by wagering on the team's 4th Cup appearance at 12 to1.
Leafs are 11 to 1 to Win the East
 Out of the 30 teams in the NHL, sixteen of them qualify for the playoffs,. The top three teams in each of the four divisions are automatic qualifiers, and then there are wild card teams in both the Eastern and Western conferences. The league leaders in total points are the Anaheim Ducks. But not far behind them in the Atlantic Division are the Canadiens. The way things look now, they will likely be a playoff participant, and could be joined in the post-season by the Toronto Maple Leafs, who will battle with teams like the Boston Bruins, Florida Panthers and Washington Capitals for wild card spots. Â
Vancouver to hoist the Cup Odds 22 to 1 - To play in the finals 12 to 1
The Vancouver Canucks, at last glance, were tied for second in the Pacific, and part of that was a very strong road record of 11-6-1. Everything in the West is pretty tight, however, and as of Wednesday, there was only two points separating the 2nd and 4th teams in the Pacific Division - Vancouver, the San Jose Sharks, the Calgary Flames and LA. Could a third Canadian team in the West qualify? Well, it is not likely to be the Edmonton Oilers, who posses the worst record in the league, having won just seven of their first 31 games. But the Winnipeg Jets, who transported themselves from Atlanta a few years ago, are going to be right in the mix for a wild card spot. Â
Like Canadian longshots? Invest in Winnipeg at 50 to 1
If the Jets are going to make any noise, it is going to have to be on the strength of goaltending from Michael Hutchinson, who is the league leader in goals-against average and save percentage. As for the Canucks, they may go as far as the Sedin brothers take them. Daniel and Henrik Sedin are identical twins. Would you like to know HOW identical they are? Well, through the first 26 games of the season, EACH of them had six goals and 18 assists. Â
 The Canadiens used to be known as the "Flying Frenchmen," but that was a long time ago. Nowadays, their leading scorers come with names like Max Pacioretty and Tomas Plekanec, and their goaltender is Carey Price.  In fact, there are not a whole lot of French Canadians to be found on the roster, although we suspect that won't make another Stanley Cup title any less sweet for "Les Habitants". Â