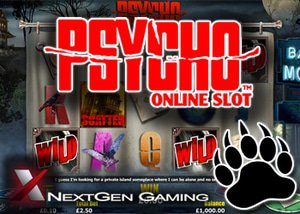 You can check in at the Bates Motel where Norman cares for the guests' every need, but you may never leave as SlotsMillion presents the brilliant Psycho slot!
Luckily for online casino players, the surprise held by the shadow on the other side of the shower curtain was a brand new video slot machine based on one of the most well known horror classics of the 1960's. NYX Gaming Group has kept as close to Universal's original theme as possible as they converted the game for gamblers to try their luck at the infamous motel.
Pulse Pounding Slot Machine Action
As the silhouette of mother sits in a window overlooking the business through overgrown weeds and dead trees, this five reel, 25 pay line video slot will keep you looking over your shoulder. You never know when Norman might be watching through the walls and waiting for his chance to strike, bringing fantastic score multipliers with every swing of the knife.
The gripping and authentic sounds and music will keep you on edge as the core game can give Wild multipliers up to 20 times the win while variable free games can reward lucky players with 40 times the payout of their roll! The Bates' mansion serves as the Scatter while the iconic and thrilling scene where Janet Leigh's Marion Crane is attacked in the shower is the game's Wild.
The rest of the icons on the reels summon up the thrills and terror of the film, en eye peeking through a gap, owls and ravens, the room key, an envelope with $40,000 in it, and the innocent seeming Marion Crane are just a few among many that set the atmosphere.
NYX Gaming Group kept both new and experienced players on desktop and mobile platforms in mind as they created their faithful tribute to a horror classic so head over to SlotsMillion to take part in this video slot machine reimagining of Psycho, one of the scariest films to every hit the silver screen.