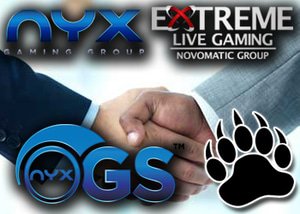 Live dealer games are now going to be available for the NYX Gaming Group's casino platform thanks to a partnership with Extreme Live Gaming.
One of the problems that many people face with playing in online casinos is that it's just not the same as playing in a land-based establishment. For people who are used to all of the sensory input that comes along with being in a crowded brick-and-mortar casino, it can be a little underwhelming. This is more a testament of how good land-based casinos are at bombarding the senses than putting down online casinos. A number of casinos have started offering live dealer games to help bridge that gap, and NYX now has their own live dealer game offering.
New Live Dealer Games Deal
This new deal comes after a partnership was created with Extreme Live Gaming, a provider of live dealer games. The three main games that are being offered are roulette, Baccarat and blackjack. All of these games are being hosted in London, and players are able to take part in these games through high-definition audio and video feeds. What makes this deal even more exciting is that these games are available through normal desktop channels as well as through mobile devices. This means that you can get in on the live dealer action whenever you want as long as you have an Internet connection.
About the NYX Gaming Group
The NYX Gaming Group has a great online casino software platform that provides players with a wide range of games to play. They're licensed in the United Kingdom, and they have more than 300 different titles. What's so interesting about this group is that they don't focus on the normal casino-poker-sports trifecta of online gambling. Instead, they have a focus on casino, lottery and bingo, which appeals to a slightly different crowd. This makes them a very attractive casino software platform to existing operators, and because their product is of a high quality, that makes it even moreso the case. Now that they offer live dealer games, they'll be able to pull in even more interest from operators.