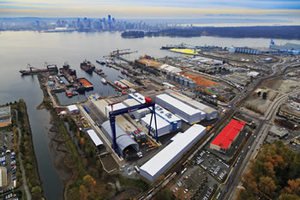 In a reversal of long standing laws, the Vancouver city counsel has voted five to two to send the issue of a proposed casino in North Vancouver to the policy committee.
Playtime Gaming raised the issue through a submitted request for the removal of a ban on gambling within city limits in late 2013 in order to further develop the Shipyards district. Their proposed building plan is for more than just basic casino entertainment to be added to the area on 'Lot 5', 110,000 square feet of city owned land being held for the creation of a 'regional attraction'.
Among the planned additions to the area are, "restaurants, boutique retail, an expansion of the Pinnacle Hotel, underground parking, a public theatre, skating rink or water feature, and about 40-per cent green space and public areas along with an area that includes slot machines in order to make the rest of the project financially viable."
With a project this large and requiring the overturning 20 years of disallowing gambling inside city limits, there are more considerations to be taken into account than just where and how to open the doors. The economic and social impacts of having gambling facilities more readily available need to be looked at.
Playtime Gaming is no stranger to the province and its particular gambling laws with six community gaming centres offering electronic gambling stations in areas such as Langley and Abbotsford. They are also connected to Vancouver Mayor Darrell Mussatto, who supports the growth, through an $11,000 donation towards his last election efforts.
What do you think? Is this a smart move for the city of Vancouver and the expansion of gambling and entertainment in the area? Please feel free to leave your comment in the section below.