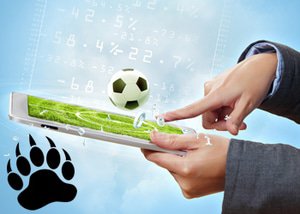 No-rake daily fantasy sports leagues have been popping up, and they're hoping to parlay investor money into being purchased by a big media company.
Daily fantasy sports sites are the newest thing around right now, and they're gaining a ton of steam with FanDuel and DraftKings leading the way. The lesser-known FantasyUp, however, is a good example of how smaller companies are trying to compete with the big dogs of the industry: by offering no-rake leagues.
How the No-Rake Leagues Work
The basic premise of the no-rake league is that they fund their operations with investor money while building up a client base. The idea is that they want to get large enough to be purchased up by a major media company that already has a large sports-based audience. FantasyUp is a good example of this strategy in action as owner Dan Ziernicki funded the site with his own winnings from FanDuel. He was his own investor in a sense, but he's had some trouble getting a buyer for the site with both CBS and Yahoo! fantasy sports turning him down.
Possible Stigma Against Daily Fantasy Sports
One of the issues with daily fantasy sports is that some people associate it with sports betting. If you're a large media company that has to put on a family-friendly front like CBS or Yahoo!, then you run a huge risk if you're seen as purchasing or investing into another company that's in the business of sports betting. What's more is that the laws aren't necessarily clear just yet on whether or not this type of betting is going to be legal five or ten years from now with the way American politics can go, so it's hard to say if it's a good investment.
Options of No-Rake DFS From Canadian Players
In our opinion, at least for the time being, the no-rake daily fantasy sites are worth checking out for Canadians. However, just like anything else you do with your money online, you need to be careful that you're putting your trust in companies that have earned it. With reports that FantasyUp has been late with certain tournament payments lately, the no-rake proposition might have a bit more risk than it seems.