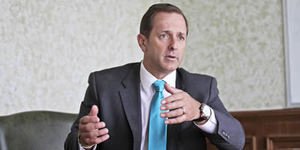 The mayor of Niagara Falls, Ontario is looking to make area casinos not only more attractive to players but also more competitive with one another by changing regulations.
Mayor Jim Diodati has applied to the provincial government to repeal regulation that currently does not allow for casinos to serve free alcoholic beverages to patrons. Changing this, he says, could draw in more business and change the tide of the profitability and appeal of area casinos. He was quoted as saying, "there are free beverages on the U.S. side, whether they're alcoholic or non-alcoholic. I think it's something that needs to be looked at."
Not only has there been a decline in the total dollars coming into the establishments but the flow of customers overall. Diodati cited numbers which show that over the course of the last four years area casino revenue has dropped off by about $101 million that would have come from the gaming tables and machines, reflecting about 2.8 million fewer people coming through the doors. This could also be due to the fact that more and more online establishments are becoming available to Ontario residents. For example, PlayOLG Casino is now available to players in Ontario to enjoy in the comforts of their own home.
The mayor compared the offerings of Canadian casinos against those directly across the border in the United States as justification for his proposed changes to regulations, "approximately 30 percent of the patrons at the American casino are Canadian, whereas less than 5 percent of the patrons in Canada are from the U.S." The mayor of Niagara Falls, New York, Paul Dyster, supported Diodati's statements by reiterating the effectiveness of offering free drinks at the establishments as well as providing further options that bring people in. Casino events, live entertainment on stage, and restaurants all serve to appeal to a larger audients. Dyster said, "the philosophy of the casinos is to provide all encompassing casinos to patrons." He went on to speak further about the efficacy of expanded casino offerings, "generally speaking, I think people feel pretty good about the product. They continue to make investments in order to make sure our casinos stays competitive with whatever the state of the industry is in other places."
The move towards mirroring American methods for driving business into the casinos would serve the greater purpose of keeping Canadian dollars on Canadian soil as well as creating a little friendly competition between the establishments on both sides of the falls. Both sides have extended their well wishing for the businesses on the other side, hoping that the move helps both sides continue to grow and succeed well into the future.