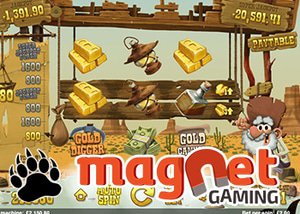 Developer of cutting edge games, Magnet Gaming, delivers the most engaging cross-platform gaming experience and have just announced yet another fantastic addition to its ever-growing top quality HTML5 based slot collection.
The New Treasure Coast slot offers every player the chance to enjoy the perfect break.
Visiting the Treasure Coast slot is everything a player could possibly wish for when its finally time to enjoy a long-awaited break. Treasure Coast offers endless beaches, holidaymakers relaxing in the sun, seagulls flying off into the distance and several sailboats passing by while the main attraction on the beach is the progressive jackpots. The striking design shows off both the years of experience and creative talent of Magnet Gaming designers.
Sensational creativity combines with unrivalled bonus features to ensure a memorable Treasure Coast holiday experience. Calming ocean views fade into the background once the spinning action commences across 9 paylines and every spin reveals a new opportunity to enjoy massive rewards from several diverse bonus rounds and two progressive jackpots.
Treasure Coast is a three-reel slot playable with a minimum bet of 0.10 up to a maximum bet worth 10.00. The wager is adjusted according to fourteen different levels. Fabulously created symbols such as beach balls, cola, cameras, kites, sunglasses, Amber, and ice-creams complement the holiday atmosphere while several bonus features add to the player's enjoyment.
Race Your Way to Treasure Coast Riches
Beach activities include the boat race, flag hunt, lost and found round, forgotten gold, pick a door and pick a card bonus features. It is time to play when a let's play ball symbol appears in the centre position of reel two. The boat race can be activated during the let's play round or by three boat race symbols. Players get to attend a race featuring six fishing boats, and each of the boats will race towards a specific prize or the activation of another bonus round.
Flag Hunts & Lost and Found Bonus Treasures
The flag hunt bonus is triggered by three flag hunt symbols or during the let's play or boat race rounds. The flag hunt is active during 25 free spins and another 25 free spins can be added during the free spins bonus round. The lost and found bonus can be activated during the boat race, let's play or by three lost and found symbols. It's a treasure hunt type bonus round in which hidden treasures can be found during fifteen turns.
Discover Forgotten Gold at Magnet Gaming Casinos
The forgotten gold bonus round can be activated by three forgotten gold symbols or via the let's play or boat race features. Players get to direct a character through the bunker to find the forgotten gold. The bunker features three levels and during the forgotten gold bonus round, players get to pick one of three doors that will reveal a cash prize.
Treasure Cost Jackpot Flash and Super Jackpot Flash Prizes
The jackpot flash can be activated during the forgotten gold, lost and found and flag hunt bonus rounds. Once activated five areas are displayed, three contain cash prizes, while the remaining two displays the super jackpot flash and a jackpot area.
Treasure Coast Slot Features Two Progressive Jackpots
Treasure Coast slot can now be enjoyed at premier Magnet Gaming Casinos and feature two progressive jackpots. The jackpot starts on an initial amount of 500.00, while the super jackpot starts at 10,000,000. Treasure Coast Slot can be enjoyed at BitStarz and hugely impresses with the variety of bonus activities as well as loads of impressive prizes, while the game features a theoretical return to the player of 96.5%.