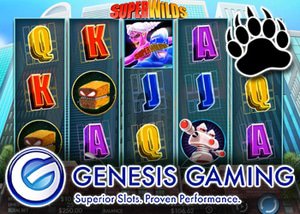 Genesis Gaming, an online casino software, has released their newest game named Super Wilds slot. Each month a new title is sent out to the public and added to this designer's platform. This marks the last game to be released by Genesis for the year of 2016.
Genesis Gaming, when announcing this game, released a description of the slot. It read, "Earth's Mightiest Superheroes have come together, each of them having their own unique powers. Our group of four heroes works to keep the world and the universe safe. With this group, anything is possible." Multiple promotions have been revealed for the game since it was announced in Mid-November. Popularity for this game had sparked before it came to casinos licensing the Genesis software.
James Watson, the Director of New Product Discovery and European Sales for Genesis Gaming, said: "This is a game that is lively and fun. We've broken the norm of the December month by not revealing a holiday seasoned game. Instead, a superhero themed slot will excite players in a unique and expansive experience. It will surely give them a break from all of the Home Alone re-runs and mince pies."
The Super Wilds slot is a 5 reel, 25 payline comic books themed slot. Expando-Man, The Spin Twins, The Trippler and Trigger are the four heroes. Each of them initiates a different feature. Expanding wilds, win multipliers, wilds and free spins are the included features via our heroes. First, a metropolis is saved and then. Secondly, the universe is saved. These distinct characters highlighting the vast bonuses adds to the excitement and volatility of the base game.
This game has been released to many Genesis Gaming casinos in the first six days of it being available. During a month when the holiday season is front and center in each direction, this slot acts as a great entertainment relief. Since going public, player activity with this game has been high and well sought after by players.
Slots Million Casino is one of the many providing this game. This forward thinking gaming mecca has many promotions geared towards welcoming new players and rewarding existing ones as well. New players can enjoy a 100$ bonus worth up to $100 and thereafter can enjoy promotion such as Gentlemen's Night, Ladies Night and Happy Hour every Friday night.