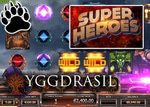 Yggdrasil Gaming has announced the release of its latest slot, Super Heroes, a game dedicated to the powerful heroes that sweep in from the sky to save the day.
As expected, Yggdrasil has pulled out all its punches and released a brightly vivid slot that features outstanding graphics, sounds and includes a host of game features, all ready to take gaming to another level of excitement, and with a jackpot win of 60,000 coins, this game is ready to award perfectly.
This new Yggdrasil slot is primed for action based on its Super Hero slot theme. As expected, its graphics are of the highest quality and include images in the background from what appears to be a city of the future under siege by aliens. The goal is to locate your own super hero and use its features to take control of the city from the aliens. Included within its features are wild symbols, free spins and a Super hero feature.
Super Heroes Slot - Powerful Features to Save The Day!
This new Yggdrasil slot offers you a 5 reel, 20 payline set up that is sure to become one of Yggdrasil Gaming's top rated games to date. During the base game, the Super hero feature can trigger at random and will see two super heroes join the action and perform their own unique special abilities to award you wins. Each hero has an assigned level and will impact your experience wonderfully.
The free spins trigger when three or more "Free Spin" symbols appear. This can award up to seven based on the appearing symbols. Each spin that follows will activate the Super heroes slot feature and will begin at level one and will level up each time the particular super hero is summoned. There are six heroes joining the action starting with Mirage, Raven, Hopper, Tesla, Trance and finally Knox.
Mirage, when called upon will change each paying symbol into a dice that will spin until a mystery win takes place and award up to 1000 coins. Raven will throw a blade that rotates and can change as many as four reels wild, Hopper creates a meteor shower that turns up to 5 random symbols wild. Next in line is Tesla, he creates an impact wave and can change up to 5 symbol into other symbols, either high or low and guarantees a win, Trance calls up a time portal to award as many as four free spins and finally, Knox shoots a fire beam that can multiply wins by as much as 5x.
If you are ready to fight the aliens, this is the game for you. With non-stop on reel action, free spins, multipliers and multiple wild win opportunities, Super Heroes slot is action packed at its best.