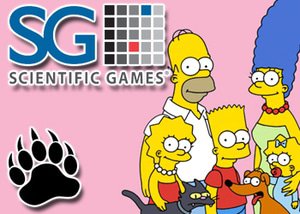 Television's most iconic family, the Simpsons, are set to make it into the online gambling industry as Scientific Games releases their brand new slots title.
Scientific Games have agreed a licensing deal with Twentieth Century Fox Consumer Products and Gracie Films to become the first online gambling software provider to develop a slot machine based on the Simpsons, the yellow-skinned family that has now become the longest running scripted television series of all time.
This much anticipated game is going to be revealed on the new Gamescape cabinet at the Global Gaming Expo in Las Vegas. According to reports it will feature a range of popular characters from the show including Homer and Marge Simpson, Moe the tavern owner, and of course Kwik-e-Mart owner Apu.
Simpsons Vegas Slot displayed on the New Gamescape Cabinet
According to Derik Mooberry, Chief Executive from Gaming, for Scientific Games, the new Simpsons slots game will be available on the new Gamescape cabinet which will combine one of the most recognizable and beloved brands in the world with some of the greatest innovations in the gaming industry. He went on to say that thet are extremely proud to be working closely with Fox Consumer Products and Gracie Films on the development of the slot game and they believe that players from around the world will be thrilled with the result and the experience they get.
The new Gamescape cabinet uses three high-definition displays that are angled towards the player alongside a 40-inch curved top screen surrounding them. It also features a 10.4-inch tablet button panel that has been ergonomically designed, and operators can coordinate graphics across multiple displays. The cabinet also features lighting around the edge of the display and an integrated sound bar that delivers 3D stereo sound without the need for a dedicated sound chair.
Jeffrey Godsick, president of Twentieth Century Fox Consumer Products explained that the teams worked really hard to make sure that the first Simpsons-themed slot machine is a true testament to the brand and that it will provide a truly immersive experience for players. He also went on to say that with dynamic new content, attention to detail, and a few surprises thrown in, Scientific Games is creating an entertaining gaming experience that they know fans of the show and slots enthusiasts worldwide will enjoy.