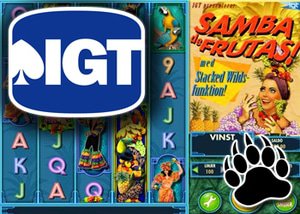 If one decides to stop by the Mr Green Casino today, they will have the opportunity to play a brand new online slot game. It comes from IGT Interactive and is a South American Style game called Samba De Frutas.
The game is something right out of a Carmen Miranda movie. Carmen Miranda's famous look came right from the heart of Bahia, Brazil home of many African Brazilians, and she frequently appeared with lots of elaborate headgear crowned with fruit or flowers.
It soon became her Hollywood trademark and playing the new Samba De Frutas game, is like reliving one of those special musical movie moments, with her singing and dancing whilst sporting a midriff-baring halter.
This new slot game is available to play in demo mode or for real money and it can be immediately launched on the player's web browser as no download is necessary to play. With a great authentic South American Samba sound track playing along in the backround, here is a genuine Samba/Carnival theme that is played out over 5 reels and has an amazing 100 winning paylines.
The game arrived on the scene towards the end of August and now can be found at an increasing number of other casinos that also carry IGT Interactive games. Registering for an account at Mr. Green will allow a new player the chance to claim up to over 700CAD in welcome bonus money. They also get credited with free spins for certain selected NetEnt slots.
The minimum cost to play and spin the reels is 1 coin, and the most one can spend on one spin goes up to a max of 30 coins. The Bonus Symbol is the Maracas Bonus Symbol, and the Wild Symbol that can be used to make up a multitude of winning combination payout lines, is the Fruit Symbol.
The Wild Symbols can land anywhere on the 5 reels, however the Bonus Symbols only ever appear on reels 2, 3 and 4, the middle reels. When three Bonus Symbols align in any position across all three of the reels, this will trigger the primary Free Spins Bonus Round.
The player will automatically be awarded 5 Free Spins as well as some added Stacked Wild Symbols that are applied to the reels for the length of this particular bonus round. The two Parrot Symbols and Character Symbols can also make an appearance stacked, and occupy more than one slot on the reels.
Should three or more than three Bonus Symbols reappear at the end of any Free Spin round, 5 more Free Spins are awarded, and it's possible to win up to 255 Free Spins on Samba De Frutas on each Bonus Round activated!