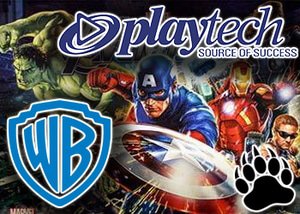 Gamblers around the world have already fallen in love with many of Playtech's branded slots, including the Marvel series, but thanks to a new deal with Warner Bros, even more are in the near future.
Playtech is an undeniable world leader in the realm of online slot machines. They offer hundreds from which gamblers can choose, including the beloved Marvel line with titles like Wonder Woman, Aquaman, and The Flash. Thanks to a new deal with Warner Bros, even more branded titles are on the horizon.
The New Deal
According to a statement released by Playtech's Chief Executive, the software development company finished talks with Warner Bros. that allow for even more branded games. Playtech's Marvel series of games with their fun features and progressive jackpots are already favorites among gamblers worldwide, so this new partnership certainly opens new doors for not only Playtech, but also for Warner Bros. What's more, the Chief Executive also mentioned that these games would be available on the ONE platform, which allows users to log into their accounts from any device with a username and password combination.
What Gamblers Can Expect
Little is known about the actual design and development of the new Warner Bros. branded games, but the company will have rights to create titles revolving around some of the major characters in the DC Comics realm. They include Green Lantern, Batman, and even the Man of Steel himself. These additions will reach out to a brand new demographic, and they will also add even more flexibility to those who already enjoy Playtech's Marvel slots. More details about the features and jackpot possibilities will likely be announced in the near future.
Gamblers who enjoy branded slots have come to know and respect Playtech, and the overwhelming success of their Marvel lineup is the proof. Thanks to this new deal with Warner Bros, Playtech is continuing to grow and provide their loyal players (as well as new ones) with even more exciting titles from which to choose.