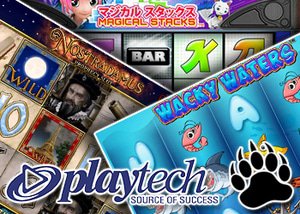 Premier online casino software provider, Playtech, is due to release a trilogy of top slots guaranteed to get the gaming juices flowing.
The three games - Magical Stacks online slot, Nostradamus Prophecy slot and Wacky Waters video slot - feature markedly different themes, reel structures and betting options, all complete with high-end audio, fluid animations and graphics that define the brand.
Apart from positive payout rates, tidy top wins and appropriately wide betting rages, players will be able to seamlessly shift between game themes that are a lot more Hollywood than vintage casino. You'll encounter classic arcade with a touch of Japanese anime in Magical Stacks slot, while Wacky Waters video slot showcases animated cartoon characters derived from the deep blue. Fire up the game engines of Nostradamus slot and you'll instantly be transported to an enigmatic world of prophecies, natural disasters and planet fuelled bonus games!
Eclectic Betting Structures
The exciting new 5 reel slots boast unique reel structures, some of which require coin wagers to activate individual paylines. In Magical Stacks slot and Wacky Waters slot, you'll have the option to activate one or more of the 20 or 15 paylines, respectively. Opt to play Nostradamus slot and there are 243 permanently activate win ways primed to capture multiple line wins on every spin of the reels.
Payouts are published as multiples of the betting stake and range from 500x the line bet in Magical Stacks and Nostradamus slot machines, to a whopping 3,000x the stake in Wacky Waters slot. There is clearly plenty to play for over and above the dazzling entertainment and multiple bonus features that have elevated slots to the most popular online and mobile casino game by far.
Big Paying Bonus Features
In addition to conventional winnings realised by hitting matching symbols on an active payline, Playtech has integrated an assortment of bonus rounds into the action. The standout feature in Wacky Waters video slot is the Cash Crab pick me feature, where you can bank 100x your wager. In Nostradamus slot it's the free spins feature that's a game changer. You are not only awarded up to 15 free spins but there are reel modifiers in play that offer all sorts of extra cash boons. Elect to play Magical Stacks slot and it's the mystery cube stacks that supply the X-factor!
The games are due for release any day now. Why not sign up at a recommended Playtech casino right now and sharpen your slots-playing skills in the interim? We'll keep you posted with more news on planned release dates - along with full reviews on Magical Stacks online slot, Nostradamus Prophecy slot and Wacky Waters video slot as soon as they're launched!