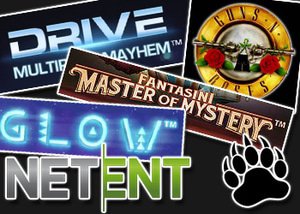 Net Entertainment, or NetEnt, has been a world-leading video slot provider for many years. 2016 marks several new titles that are sure to please gamblers of all ages.
They include Guns 'n Roses, Glow, Drive, and Fantasini: Master of Mystery. They all pack a nice jackpot and lots of immersive fun, too. As always, NetEnt truly delivers in terms of beauty, excitement, and fun.
Guns 'n Roses
The late 1980s was the golden age for glam metal. Long-haired rockers in tight leather pants were all the rage, and back in those days, there wasn't a teenage girl alive who didn't know of Axl Rose. Although it's been 20 years since this band enjoyed its heyday of popularity on the airwaves, they're back and bigger than ever in the Guns 'n Roses slot machine from Net Entertainment. There are five reels and 25 paylines filled with Axl, Slash and the gang, and the sounds that made the group famous act as your background music. Check out the video, and get ready to rock and roll yourself into some serious winnings.
Glow
Fans of all things spiritual and natural are sure to fall in love with another new title from NetEnt - Glow. Here, it's all about the beautiful aurora borealis, or the "northern lights", and a variety of animal spirits. There are five reels and 15 paylines filled with futuristic-looking icons, a wonderfully upbeat soundtrack, and lots of ways to win including wilds, multipliers, and free spins. The betting range is massive, which means that the jackpot of 2000 coins could top out into the tens of thousands of dollars. It's truly amazing how a slot game can be so serene and exciting at the same time.
Drive
NetEnt's new Drive slot machine takes things to a brand new level with its many, many multipliers. In fact, this slot machine is all about the multipliers. You'll find yourself immersed in a world of futuristic drag racing. Everything from the unique icons to the sound of revving engines will get your heart pumping. What's more, with multipliers that can top out at an astounding 120 times your line bet, it's possible to win thousands of dollars in a single spin. It'll be available on February 23rd, but until then, you can check out the video.
Fantasini: Master of Mystery
Fans of magicians and magic shows can choose from a variety of online video slots, but none are as unique or as immersive as Fantasini: Master of Mystery. This five-reel, 243-ways-to-win slot machine offers up a cool twist with its "linked reels" feature. Each spin starts with two identical reels that are linked together with a golden chain. The linked reels can expand during the spin so that three, four, or even all five show the same set of icons. You'll find yourself on the edge of your seat waiting on the sights and sounds of those breaking chains, and it's certainly a thrill ride for gamblers of all ages. You can watch the video to learn more.
Net Entertainment continues to deliver some of the world's most popular online slots, and with each new release, they appeal to an even larger group of gamblers around the world. These four slots are coming soon to a NetEnt casino near you, so keep your eyes peeled and be among the first to spin the reels on Drive, Glow, Guns 'n Roses, and Fantasini: Master of Mystery.