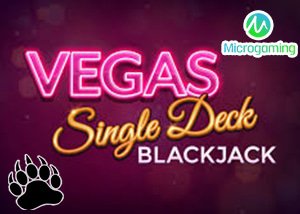 Enjoy a memorable betting experience while playing the new Vegas Single Deck Blackjack variant from Microgaming, complete with cutting-edge designs, a 99.69% RTP, and sophisticated music to match.
If you can't make a decision between playing European or American blackjack variations, you'll be pleased to know that Microgaming and Switch Studios have launched a phenomenal alternative known as Vegas Single Deck Blackjack. This hugely popular and well-designed blackjack variant will give you the perfect opportunity to indulge in both worlds with brand-new features, relaxing music, and an eye-catching layout that is sure to enhance your betting experience from the comfort of your own home.
The new Vegas Single Deck Blackjack variant from Switch Studios and Microgaming casino software impresses with stunning animation quality, jaw-dropping sound effects, and a modern and easy-to-use interface that will attract both newcomers and blackjack veterans from around the world. This blackjack variant features game rules from American and European variations and provides a host of interesting features to offer a truly memorable experience. What we also like about this new variant is the fact that you can enjoy it at multiple Microgaming casinos on desktop, mobile, and tablet devices.
Vegas Single Deck Blackjack Game Rules
Microgaming's new Vegas Single Deck Blackjack variant is played with only a single deck of playing cards and is regarded as a hold card variant. This essentially means that the dealer will be dealt one card face down and another card face up. The game's dealer will be allowed to peak at his playing cards whenever he receives a 10 value playing card. It's also worth mentioning that the dealer must draw another card whenever he has a soft 17 in his hand.
As a player, you are allowed to double down if your hand value is 11, 10, or even 9. However, it's vital to know that you will only be allowed to double down once after you decided to split your hand. It's also worth knowing that you will only be allowed to split your hand once in a single round. When it comes to payouts, you will receive 3-2 for getting blackjack in your hand, and 2-1 whenever you win on an insurance bet. Please familiarize yourself with the game rules before you play for real money by simply using the drop-down menu within the game.
Betting Options and In-Game Features
You will be greeted by a phenomenal selection of betting options in the new Vegas Single Deck Blackjack variant from Microgaming and Switch Studios. The betting options are located underneath the blackjack table and have been neatly portrayed on a semi-transparent betting panel. Your various betting options are presented in a variety of casino chips that start at a minimum bet value of $1.00 and increase up to a maximum bet value of $200.00. Every chip also comes equipped with a unique color to make it easier for you to select your desired betting amount.
Apart from the wide range of betting options at your disposal, you will also be treated to a wonderful selection of features to further enrich your online gaming session. Most of the game's features will be located within the drop-down menu that is situated in the top left corner of the game. Some of the notable features include hand history, game rules, and more. You can even increase or decrease the sound effects in the game and keep track of time in the bottom right corner of the game.
Visuals and Table Layout
Microgaming's new Vegas Single Deck Blackjack variant, in collaboration with Switch Studios, offers an innovative and fresh approach to the famous and classic card game that we've all fell in love with over the years. For instance, after you launched the game, you will be greeted by a flamboyant blackjack table that has been completely decorated in pink felt and includes a single white betting box that you will use to place your bets. You will also find that the table has been decorated by a gold trim that runs around the entire table along with thick black vinyl to give the impression of a real blackjack table you will find in a land-based casino.
Apart from the cutting-edge graphics and unusual color, you will also appreciate the fact that the game is at the forefront of innovative features, especially when you compare it to older blackjack variants. The layout is the first aspect that will blow you away, especially when you look at the attention to detail in terms of animation quality and graphics. You will also enjoy the subtle sound effects that have been incorporated in the game, ensuring you experience an authentic and realistic blackjack betting experience, regardless if you decide to play at home or on the move. All features are easily accessible and everything is made simplistic to appeal to newcomers and blackjack enthusiasts alike.
Where to Play Vegas Single Deck Blackjack
Microgaming and Switch Studios' Vegas Single Deck Blackjack variant offers an attractive 99.69% return to player ratio and comes equipped with a host of innovative features. The new blackjack variant will be available at several Microgaming casinos for easy access. However, we highly suggest that you first claim your exclusive no deposit bonus at Grizzly Gambling to boost your bankroll and to prolong your experience on this new and exciting blackjack variant before you select one of the recommended casinos from our list.