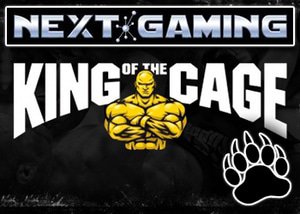 Slot lovers have managed to get their heads around a whole host of well-known branded slot machines throughout the years.
From well-known comic book heroes, to famous mythological creatures, one would imagine every conceivable theme or game has already been conjured up. Not so it would appear, as Next Gaming proudly unveils their very latest Mixed Martial Arts (MMA) slots. It's nicely packaged incorporating the King of the Cage brand, and also serves as a brand new niche!
Gaming Industry First - World's First MMA Slot Game Arrives!
The Sac & Fox Casino tucked away in Stroud Oklahoma, was the proud venue for the June 19, 2015 launch of the world's first Mixed Martial Arts Slot game, King of the Cage (KOTC).
Chief Executive Officer and Founder of US land based KOTC, Terry Trebilcock enthused how excited he was to be part of this historical launch that would now bring the world's first MMA slot machine to the market. He went on to say that he was sure his enthusiasm would be shared amongst fans around the country that will now get to enjoy playing this brand new interactive game when paying a visit to their favorite casino.
Trebilcock pointed to the uniqueness of the King of the Cage slots game as there are already many such live KOTC events around, that regularly attract many casino goers. This no doubt will only add to the fanfare.
Next Gaming Crank Up The Power
Next Gaming are headquartered in Las Vegas Nevada and have been licensed and operating since the year of 2006. They have been largely responsible for developing state of the art slot machines that have been uniquely branded for almost 10 years now. Their main focus of distribution of such innovative slot games has been primarily targeted towards the Tribal and US gaming markets.
Terry Caudill the owner of Next Gaming commented what a huge opportunity had been created for the company by involving themselves in something that has created such a stir amongst it's public. He said that to design and distribute this new slots game in conjunction with King of the Cage offered a great chance to create more excitement on the casino floor, with MMA now being the fastest and most popular growing sports.
He concluded he was now looking forward to working with KOTC in offering marketing support in conjunction with various ongoing promotions and live appearances. "We are now ready to showcase KOTC on numerous casino floors across the country, and we look forward to a great partnership with KOTC."