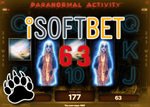 iSoftbet brings back the film that both terrified and fascinated moviegoers back in 2010, which portrayed a family hoping to capture evidence of a supernatural presence on film.
Even though the movie was later announced to be one of the lowest budget films it is undoubtedly an effective horror that most agree was produced brilliantly enough to allow for a series of six successful films reaching box office sales $889.7 million.
Fans are invited to experience the shudders and shocks in a new reel game based on Paranormal Activity, an iSoftbet casino software video slot guaranteed to offers hair-raising moments, endless fun, unbridled terrifyingly good wins and makes it to the top of the list for the scariest video slots ever created.
Paranormal Activity slot is the newest superb creation from iSoftbet, and the branded video slot manages to enthrall players across the globe with its creepy sound effects and spine chilling visuals. Abnormally great winnings can be achieved across its 5 reels offering 243 ways to win featuring a series of bonus features such as progressing multipliers, unlimited quantity of free spins, bonus wheel, scatters, wilds and a win of up to 120,000 coins.
Paranormal Spins - A World of Activity
The paranormal spins bonus round offers unlimited free spins up to a number of 5 wins enhanced by growing multipliers, while the possessed spin bonus round excites with 10 free spins. During the possessed spins bonus, the 10 free spins offer rewards boosted by additional stacked wilds. The demon free spins bonus round awards 15 free spins and its winning power is hugely increased by the appearance of random demon symbols and additional wilds. Instant wins of up to 750 are available as part of the rewards displayed on the bonus wheel and to trigger this bonus round a minimum of three bonus symbols is required on the first, third and fifth reels.
MD, Nir Elbaz, from iSoftbet casino software, commented that branded video slots are effective in increasing player popularity, allowing players to interact with characters familiar due to box office hit films. The software supplier looks forward to providing international players with one of the finest online video slots created in cooperation with Paramount Picture... The game is inspired by terrifying horror movies.
Other cutting-edge created branded video slot by iSoftbet included Platoon Wild Progressive, Platoon Wild both created in cooperation with Orion Pictures Corporation, 24 developed in cooperation with Twentieth Century Fox and Basic Instinct developed with StudioCanal. Paranormal Activity slot can be enjoyed at Slots Million Casino. Register today!