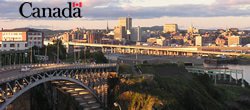 Canada is known for being very forward-thinking when it comes to the online gambling industry.
So it's no surprise that a $5 million grant has been given to put together a gaming software platform in New Brunswick for a variety of games. This is being put together by a group consisting of T4G, GTECH Canada, First Mobile Education and New Brunswick Community College. The idea is for this software platform to work to provide content to cell phones, mobile devices, tablets, computers, and land-based betting terminals over the Internet.
One aspect of this news is that New Brunswick is going straight after the mobile sector instead of starting with a computer-based approach and expanding into mobile later on. This ties into the way that HTML5 has been used over the past couple of years to slowly become a replacement for all software platforms because the same games can be ran on all types of devices. This is easy to do with newer software platforms because you can build it that way from the start, and it's more difficult for older software providers to switch over to because of the costs involved in converting all of the old content.
Another interesting part of this news is that they are building their own platform from the ground up instead of just licensing out a software platform that's already being used by one of the existing software developers. While this has a higher upfront cost, it can lead to savings in licensing fees down the line. It also helps to drive jobs which is a major part of the reason they were able to get the money for the project in the first place.
Other than generating revenues, another important purpose for this project is to create jobs that will last. There are tons of jobs that are created in an undertaking this big because you need everything from programmers to computer engineers to network staff to customer service representatives. All of these positions will eventually be paid from the revenues brought in from the games themselves, and that means it's going to sustain itself while also providing the government with funds for programs that will help things on a larger scale. Overall, this is a very interesting and exciting project that will do a lot of good for New Brunswick.