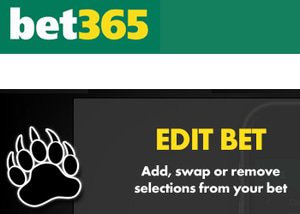 Bet365 has officially launched a new exciting 'edit bet' feature on its mobile app that is being touted as innovative!
This new cash out feature is available on their mobile app and allows players to make changes to unsettled bets. This includes adding, removing or swapping bets that have yet to be determined, relating to pre-match or in-play matches. In addition to those noted, players have the ability to apply those edits to single bets prior to those being settled.
The bet365 app, which is called Edit bet, may only be chosen when in a positon of Cashout. It allows you the ability to make changes to those outstanding selections, even if some chosen have already had the outcomes determined. In doing so, it will see the value of the Cashout being changed to reflect the changes made with all amounts being reflected in real time with live odds.
The Edit bet is live for all mobile and tablet devices, and accessible via the Cash out tab. In order to use this feature, simply select the "Edit Bet" option and make the edits you wish to make. Changes will instantly be updated, and the new value of those bets will be displayed. This is a one of a kind betting option that has not been seen before with bookmaking sites. Bet365 is setting the bar high with this addition, and others will certainly feel the effect as it is a feature that will truly benefit players.
bet365 Casino created, and was first to release, the new Playtech app as part of its strategy to upgrade and improve its mobile app. The mobile side of the company's business has seen substantial growth in the last year, in part to the success of this strategy, which also saw the release of a live blackjack product.
Established in 2001, bet365 Casino offers a full casino, bingo, poker, and sportsbook. Based in the United Kingdom, it operates only in jurisdictions that are regulated and maintains a strong focus on promotions geared towards Europe. New players to bet365 can enjoy an endless range of promotions starting with a 100% up to $200 bonus for its casino, sportsbook, and in-play sports. Those interested in poker will find a 100% up to $100 bonus, and bingo lovers will delight in multiple promotions that are featured. Register today and experience a new level of mobile gaming!