New EcoCard Service for Canadian Online Casinos
By:
Russell Potvin

, Wed. Sept. 14, 2016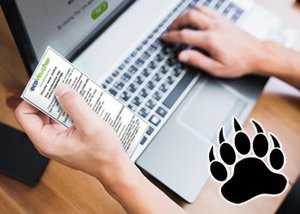 EcoVouchers is a new prepaid solution launched in 2016 by Ecocard. Ecocard is owned by the PSI-Pay Limited brand and is authorized under the Electronic Money Regulations of 2011 and by the Financial Conduct Authority.
What makes the ecoVouchers an extremely handy tool for all online shoppers and Canadian online casino players is the that vouchers can be purchased through the official reseller website or through the payment source store network in Canada, an easy-to-use store locator is available online. Using these online is safer and easier than using bank accounts or credit cards, and users are never expected to enter personal information or sensitive financial details online. The only information required is the pin number obtainable from the voucher itself. The Pin number exists of 18 digits and the terms and conditions are available in numerous languages. The Ecocard team has been extremely active in increasing the number of merchants accepting their new vouchers and would like to know if your favorite site is not yet part of the accepting services yet.
Why Everyone Should Use EcoVouchers
The benefits of using Eco are that the vouchers enable purchasers to relax without worrying that personal or financial information is compromised.
Only confirmed distributors and merchants work with ecoVouchers.
EcoVouchers is a brand of FCA, a regulated UK company who guarantees that your cash is safe.
Eco accounts take seconds to open and allow everyone to send and spend cash online knowing transactions are safe & secure.
The account is free and can be opened with no need for credit checks and you do not require a bank account, plus several ways can be used to top up your account.
Funds are available to use at any time and offer the most convenience in total confidence.
EcoVouchers utilize the latest fraud and security technology to offer a secure, fast way to transfer funds from and to merchants in the safest possible way. Remember to use their Security Tips to keep your voucher safe because the voucers need to be treated like cash and stored in a secure place. Vouchers should be purchased at authorized sales outlets and used at authorized merchants only.
The integrity and security of personal information are one of the company's top priorities and the information is simply never shared, which makes Ecocard the perfect online payment solution for anyone wishing to keep his or her information private.