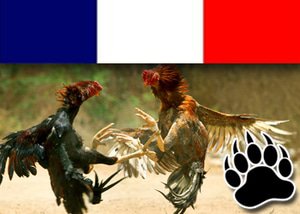 Cock-fighting in France could be coming to an end after the country's highest court ruled in favour of upholding a ruling that prohibits new rings.
This current ruling which was introduced by the Constitutional Council was welcomed by animal rights activists who saw it as a step towards ending a sport that they claim is barbaric and should be condemned.
Cock-fighting is one of the world's oldest spectator sports and it dates back over 6,000 years to Iran and Ancient Greece. In India it can be traced back more than 2,000 years and it is still regarded as a sacred religious ritual as well as a sporting event. At least 15 countries around the globe have spectator rings that are a big as football stadiums for cock-fighting and it has been featured in literature, music and film over the years.
Under French law cruelty to animals is illegal but in regions where there was "an uninterrupted tradition" of certain sports such as cock-fighting and bullfighting, legislation was relaxed on the matter back in 1964. In 1964 General de Gaulle stated: "Since we eat cocks, they have to die." That has meant that since then cock fights can be held in France's north-east, as well as in former overseas colonies including French Guiana, the French West Indies and Reunion.
Rooster owners from Reunion have mounted a challenge in the Constitutional Court.
The charity Cause Animale Nord has said that the French cock-fighting federation only has 5,000 members but up to 45,000 birds die in fights. They went on to claim that many cocks are placed into the ring with blades attached to their spurs. This is something that is angering activists who are fighting to have the sport banned. The birds that lose are then sold for the pot for around €10 and according to Guillaume Levecq, organiser for fights in Gondecourt, North France, there is a real family atmosphere at events.
Although it is illegal, the sport does have a following in the UK and many enthusiasts travel to Calais each year. In 2012 a father and son from west Sussex in the UK were prosecuted when a large cock-fighting operation of more than 500 birds was discovered during a raid on their farms. It is thought that steroids were used on the birds to make them stronger and more aggressive.
Cock-fighting can often be linked to other crime not to mention it being a source of disease. A prize fighting cock can be worth a lot of money and there are many breeders who pluck the birds' feathers or cut off their waddles and combs to prevent them being torn off in the ring.
This ban on new cock-fighting arenas in France could very well bring about the end of this sport but only time will tell. Be sure to keep a check on the the latest gambling news as we will report on this story as more information becomes available.