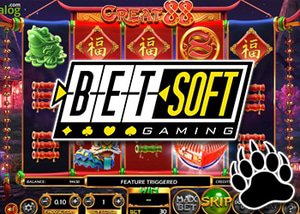 Betsoft has just launched a brand new brilliantly-created video slot, GREAT 88, and, per the company, the game is described as Fireworks, Dragons, Lucky Boxes, and Big Wins!
There are indeed plenty of reasons to race off to your nearest online casino now to enjoy the GREAT 88 slot. The Asian-inspired theme offers great attention to detail combined with exceptional colour blending to provide players with an atmosphere in which the quintessence of a peaceful sunset is strikingly captured. As with all Betsoft slots there is simply no pleasanter way to search for good fortune and luck in every spin.
Great 88 Features and Bonuses
GREAT 88 video slot features 5 reels and 30 paylines decorated with dragons, red lucky boxes, red eights, green sixes, lucky jade coins guarded by a frog, single brown bamboo, double green bamboo, triple red bamboo, instant win bronze coins, firecrackers, green coins, bonus wheel, and a golden dumping symbols.
Special bonus rewards can be obtained from the wide range of bonus features including lucky boxes, top symbols, bonus wheel, free spins, instant wins, wilds and multipliers. With GREAT 88 your big wins are hidden within the red lucky boxes and to reveal the secreted content it is necessary to land three or more of the boxes, the rewards will offer either a spin on the bonus wheel, free spins, firecracker wilds, instant bronze coin wins or rewards from top symbols.
The top symbols are the lion and dragon, when one of these are rewarded it combines with standard symbols to offer higher wins. When the red boxes reveal bronze coins that consists of one, two or three on a red string the player win the total stake multiplied by the number of bronze coins, which could add up to 3x or 15x your total bet.
If the lucky red boxes contain firecracker wilds it will explode and one or two other symbols will transform into wilds. Should the red boxes awards you with green jade coins then its time to enjoy a series of free spins, which could be 3 or up to 25 free spin and no red boxes appears during the free spins bonus round. Once the red boxes opens to reveal a golden dumpling then its is time to take a spin on the mega wheel, which offers prizes such as 8 free spins or between 5x up to 20 x your total bet.
If anyone is still in doubt if this new Betsoft slot is the game where riches hide then the fact that you could win up to 450,000 credits within a single game might be what you are waiting for, or would the 6,000 times the total bet awarded by the giant mega wheel be the deciding factor since there is still a win of 8,888 held by five firecracker wilds.