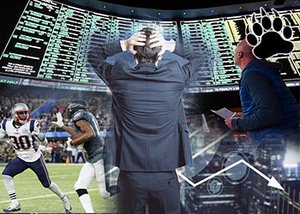 Sports Books in Las Vegas Not So Lucky After Eagles Win Super Bowl 52
Lady luck was certainly absent for Las Vegas sports books during Super Bowl 52 as reports indicated significant losses due to a deep pocketed mystery bettor along with many records set during the match, allowing bettors to cash in on prop bets. Nevada sportsbooks managed to crush their previous record for total Super Bowl bets handled, but it was their net win this year that gave them quite a shock, as it was reported to be the lowest in 10 years.
Bettors Wagered a Record on Super Bowl 52
The Nevada Gaming Control Board (NGCB) revealed that bettors wagered a record $158.6 million on Super Bowl 52 at 198 state-licensed sportsbooks, more than $20.1 million when compared to the $135.8 million bettors placed in 2017. However, the net win made by Las Vegas sportsbooks was far below everyone's expectations.
Nevada's books continuously set handle records, topping $100 million in wagers every single year since 2014. However, the sharp decline in net win has certainly spoiled the betting handle record this year. Nevada's books claimed a mere 0.7% of wagers made by bettors, translating to a lowly $1.17 million in net win.
Nevada casino sportsbooks selected the New England Patriots against the Philadelphia Eagles to claim their second straight Super Bowl victory. Sports Betting sites initially posted lines between 5 and 6 points and the total points scored in the match at 48. The Nevada books got plummeted as most bettors believed that the final score would surpass 48 points, and the fact that most bettors wagered that the underdog Eagles would win the match straight up.
William Hill Suffers Multi-Million-Dollar Loss
There were 5 bets of at least $1 million, 4 of which were placed on the Philadelphia Eagles, including a staggering $3 million money line wager. William Hill US accepted 2 of those $1 million wagers and suffered a multi-million-dollar loss which included $3.2 million to the mystery Bettor X who also made a significant win on the World Series last year.
The William Hill Sports Betting site further reported that based on the number of tickets, 54% of bettors were correct by choosing the Philadelphia Eagles on the point spread and 75% were correct on the money line. Furthermore, 56% of tickets were spot on in choosing the over for the total points accumulated in the match, which the operator had on 48.