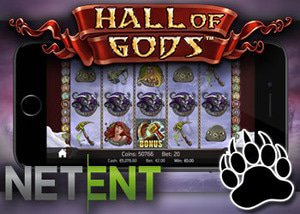 Earlier this month, online casino game developer NetEnt announced that one of their most popular and largest progressive jackpot slots will be available for mobile players in February 2017.
This is ideal news for players on the go and has been welcome by NetEnt casinos who offer its mobile software.
Mobile gaming has become the most popular and most desired way to play video slots, but unfortunately, not many progressive jackpot slots have been included with this option. However, this is about to change as NetEnt convert some of their most popular progressive jackpot games to be accessible on mobile casinos. Thus, allowing players with mobile phones to access the features, rewards, betting options, and progressive jackpot winnings available in the game.
Hall of Gods slot provides a theme with gods based on Norse mythology, which includes multiple characters and items such as Thor's hammer. Higher values symbols include Loki, Thor, Odin, Freya, and others. However, while the theme and symbols in the game might seem attractive, NetEnt has created the slot to provide additional winnings with the bonuses. This includes wilds on the 3 centre reels that expand when involved with a winning combination, players are also able to trigger a free spin bonus feature that includes 3x the winnings of the regular game.
The jackpot game itself also impresses and is activated regularly as it only requires a bonus symbol to appear on reels 3, 4, and 5. The feature includes multiple shields that need to be smashed with the hammer to reveal their value. Once 3 of the same values or jackpot symbols have been matched, the game will add the winning value or progressive jackpot value to your account. All the features and jackpot game works exactly the same on mobile devices as it currently does on PC, making it a very exciting opportunity from anywhere and at any time on your smartphone or tablet.
Now available as a Hall of Gods mobile slot from NetEnt, and available at Slots Magic Casino, it has been available for many years and has become an amazingly popular game among progressive jackpot slot enthusiasts. A number of huge winnings have been recorded over the years, which includes the win recorded in February 2012, October 2012, April 2015, December 2015, and October 2016, which all presented values over €7 million in winnings. The game provides winnings on average of 20 to 26 weeks apart and provides an average winning of €5.5 million. Players will be pleased to know the lowest payout ever was still over €600,000.
NetEnt has remained one of the world's most popular developers when it comes to all types of casino games. The company has obtained multiple awards not only for their video slots, but also live dealer games, virtual gaming, and others. One of their most impressive progressive slot achievements is the world record that was set in 2013 and still remains as the highest progressive jackpot ever to be won.