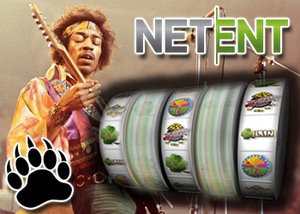 Have you ever been experienced? With the up-and-coming Jimi Hendrix online slot game from developer Net Entertainment, fans of the superstar can experience the sights, the sounds, and the music starting in April of this year.
NetEnt has truly stepped up its game, so to speak, and consumers can find a variety of new slots from this developer. The unveiling of the NetEnt Rocks trilogy began last month with the release of the Guns 'n Roses slot machine, which has received quite the welcome. The second slot in the trilogy, Jimi Hendrix, will be released in April.
NetEnt Really Rocks
The first of the music-themed NetEnt slots, Guns 'n Roses, is a huge hit so far. It was developed entirely in 3D and features five of the band's most popular songs as well as their caricatures on the screen. The second slot in the trilogy, Jimi Hendrix, is expected to follow in Guns 'n Roses' footsteps. It will feature five of Hendrix's most popular songs which include Purple Haze, Crosstown Traffic, Little Wing, and even Foxy Lady.
The Hendrix Family's Thoughts
In order to develop the Jimi Hendrix slot, NetEnt worked very closely with Experience Hendrix, LLC, a company founded by Jimi's family. With their help, the company created ten different morph targets for Jimi's in-game character so that he can create hundreds of facial expressions. According to Janle Hendrix, the president and CEO of Experience Hendrix, the company is "extremely selective" in who they partner with, and they feel that NetEnt truly has an understanding of Jimi's art and the importance of preserving it.
Gamblers around the world are awaiting the release of the Jimi Hendrix slot in April, and NetEnt has also indicated that it will release the third and final slot in the trilogy, Motorhead, likely in September. If the success of the Guns 'n Roses slot is any indicator, then Jimi Hendrix will be nothing short of amazing.