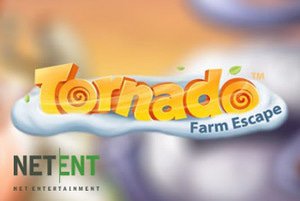 The new Tornado: Farm Escape slot by NetEnt shows that they're continuing to bring new concepts and features to their games.
Some critics have put down Net Entertainment for their lack of big brands in their games. What these critics don't understand is that this company doesn't have to use these brands from various forms of media because their games are so overwhelmingly strong that they speak for themselves.
This is definitely the case with their new Tornado: Farm Escape game. The theme here is that a tornado is about to rip through a farm during a big storm, and while the animals try to use this as an opportunity to escape, you'll be using it as an opportunity to run up some big wins. The game uses a typical five-reel and three-row format, and it has 20 paylines that you can play with.
Other than the typical high-level graphics that you've come to expect from NetEnt, you're also going to get a couple of atypical features that really set this game apart. The Storm feature is all about having extra wilds spread across the reels to give you tons of extra ways to win. With the Tornado feature, however, you're guaranteed payouts for each wild and activated symbol that can be found on the reels. These features combine with the natural high hit-rate of this game to give players a great overall experience.