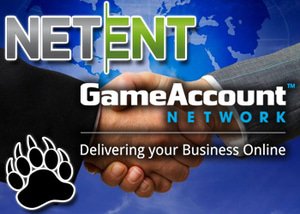 GameAccount has been given a whole new look for their new corporate brand, GAN. As well as being one of the largest online gaming software providers, they have also agreed a new US Simulated Gaming market deal with Net Entertainment.
GameAccount have a brand new look and logo which will be revealed later this month at the Global Gaming Expo (G2E) in Las Vegas. This new branding will see the company become GAN on the stock markets and all their sub-brands will continue to be supported. This includes SENSE3, iBridge Framework, Simulated Gaming, and GameStack.
According to the company, GAN has been their acronym in the US for many years and after the G2E their website will become GAN.com. This new brand is part of their continued expansion in the United States and other selected land-based casino markets around the globe. GAN is a leading developer and supplier of enterprise-level B2B gaming software systems and online gaming content and this new brand name reflects this.
On top of their new corporate brand, GAN has also secured a new deal with Net Entertainment. This deal will see NetEnt supplying GAN with its content through the Simulated Gaming Platform in the United States. The deal targets land-based markets and will see all of NetEnt's content being made available to operators' websites across the US. The content rollout will come in phases but it will see land-based operators being able to offer some of the best games in the industry and gain recognition for doing so.
Björn Krantz, Managing Director of NetEnt Americas LLC has this to say: "We are very excited to be entering the simulated gaming market. The agreement with GAN will allow land-based casinos in the US to introduce NetEnt's online casino games to their player community ahead of possible state regulations. The opportunity to build early recognition and loyalty regarding our best-in-breed gaming titles fits perfectly into our long term growth strategy in the US."
Dermot Smurfit, CEO of GAN had this to say: "We are delighted to support NetEnt's entry into the US market and on behalf of our land-based casino operator clients we welcome their compelling gaming experience onboard our Simulated Gaming platform."
This new deal may not offer real money wagers, but it will open pave the way for NetEnt to gain a new following in the United States and reach more potential players prior to new state regulations on online gambling coming into force. All in all, it is great news for GAN and NetEnt.