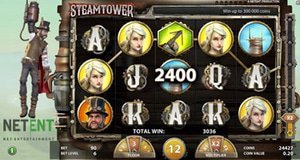 If you're a fan of steampunk culture, then you'll absolutely love the new Steam Tower video slot by Net Entertainment.
Steampunk is a genre of science fiction that centers around an alternative timeline where steam power remains one of the main sources of powering machines. This is a very interesting premise for a lot of popular movies, television shows and books, and Net Entertainment has harnessed this power with their new Steam Tower video slot.
While some steampunk stories have a slow pacing, that's not the case with Steam Tower. This game is action-packed from the beginning and follows you as you try to navigate the different floors of towers to make your way to a princess at the top. The different floors give you multipliers and chances at other types of goodies, so this is a game that you'll want to play when you have plenty of time to put into it since replay value is a pretty big deal with Steam Tower.
Steam Tower first released on February 23, and it's a great way to end the month. It uses a typical layout with 15 paylines, an older format that Net Entertainment has brought back and made their own recently. Stacked wilds are one of the main features of this game that will affect your regular gameplay, but you can also get free spins with increasing multipliers as high as 7x. The free spins bonus feature in this game is very lucrative with wilds adding even more free spins to your total and bringing you up to the next floor with larger multipliers.
Net Entertainment using steampunk culture as the basis for an online slot is pretty typical of them. They're really great about using atypical themes that haven't really been used much in the online slot world, and this makes for really exciting games since they often incorporate stories that make sense within the context of the overall theme. This is definitely the case with Steam Tower, and you'll be after the princess and the rewards that come with it as you try to navigate the different floors in this game during the free spins bonus feature. Overall, even if you aren't a fan of steampunk, you'll be a fan of this game.