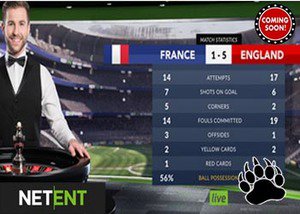 After introducing the World Cup Free Round Widget less than a week ago, leading software provider NetEnt is ready to launch new live dealer game called Live Sports Roulette.
The new game provides casino operators with the ability to offer a roulette option to online players during the FIFA World Cup and will be available at all NetEnt Casinos from June 14.
Live Sports Roulette
The new Live Sports Roulette game will provide a unique football experience by giving players a chance to stay up-to-date with the latest updates and scores of the FIFA World Cup while enjoying a game of roulette with professional live dealers in real time. To ensure this thrilling experience caters to every single sports fan, live dealers will also be delivering additional commentary on all FIFA World Cup games and their outcomes, while an innovative live sports feed will display a summary of game statistics, group tables, and game schedules in the background.
What makes this World Cup-themed product even more impressive is the fact that it will be available on both desktop and mobile devices, allowing players to stay informed on every FIFA World Cup outcome like never before.
Goal Smash Roulette
While the 2018 World Cup gets underway, NetEnt will also be launching a brand-new promotion to compliment the release of their new live dealer game. The promotion is called Goal Smash Roulette and it will essentially be a two-part competition, providing loads of bonus giveaways every single day as well as prize drawings from a jaw-dropping prize pool of $75,000. The promotion will be available from July 14 and will end on July 15.
Once the World Cup comes to an end, the roulette gaming technology will still be available for NetEnt live customers as it can be paired with any type of event. Casino operators can easily include the game in their library, giving them the opportunity to target a specific group of players by displaying tournaments, contests, events, or similar content.
Where to Play Live Sports Roulette
The Live Sports Roulette game and Goal Smash Roulette promotion will both be available at premier NetEnt powered casinos from June 14. Read our review of bet365 casino, where you'll also be able to place bets on soccer matches and other international sporting events.
Players can claim the Goal Smash promotion and enjoy an immersive live roulette experience on both desktop and mobile devices, thus ensuring non-stop sporting action regardless of where you are.