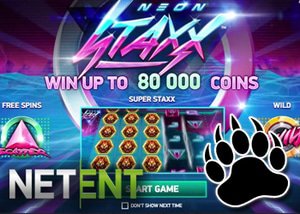 Turn on the boombox, pull up your leg warmers, and get ready for the best retro throwback since break dancing came back with NetEnt's latest slot, Neon Staxx!
Net Entertainment has been hard at work skimming their collective memories for their favourite memories from the 80s in creating this brand new five reel, four row video slot machine. Luckily for their players, they came up with a better theme than crazy fads and pastel coloured suits, instead bringing an updated version of the synthesizer music and computerized video game graphics that were so well loved.
NetEnt's Neon Staxx Slot Machine Features
Although it doesn't come out until June 24th of this year, NetEnt has released a new video teaser on their official YouTube channel giving players a taste of what they're in for. Crisp 3D graphics, retro futuristic graphic background, and music that's true to the feel of the theme reminiscent of training montages in our favourite 80s movies all wait on the other side of the play button.
The SuperStaxx feature is a randomly appearing bonus in which vertical winning combinations can crank up the player's winnings by selecting a symbol to change in the hopes of maximizing wins. Collecting three Scatter symbols will set off the Free Spins bonus in which the player can get 15 rolls that could also trigger the SuperStaxx Feature again.
Althought there's still about a month to wait for Neon Staxx to come out through Net Entertainment's partnered casino sites and on their Touch platform for mobile devices, players have so much to look forward to with this summer release. NetEnt takes the best memories of 80s sound and graphics and brings them together in a single amazing slot game!