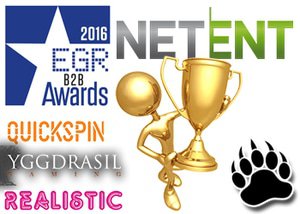 The annual EGR B2B Awards were held in London last week and recognized the work carried out by gaming providers for online casinos. NetEnt cleaned up taking home three awards.
NetEnt and several newcomers scooped the awards at this year's EGR B2B Awards and to be honest, it was nice to see names other than the likes of Microgaming and Playtech on the list. That's not to say Microgaming didn't feature, they did, and took home the poker software of the year award for the fourth year running. Below you will find an overview of some of the big winners on the night.
Best Overall Casino Software - NetEnt
NetEnt was awarded best overall casino software who actually scooped a total of 3 awards at the UK event. NetEnt had been shortlisted for 9 awards but we doubt they expected to leave the stage with three of them. The three awards that they did win are the most sought after at this annual event and they really do show this online casino software providers growth and continued rise to the top of the game providers list. The three awards they claimed were Innovation in Mobile, RNG Casino Supplier, and Innovation in Slot Provision. These awards prove that the future is bright for this software developer. Their games are hugely popular among slots fans and they five amazing titles ready to be launched in the next quarter.
Innovation in Casino Software - Quickspin
Quickspin were the winners in the Innovation in Casino Software category. This slots specialist won out in a very competitive category that featured some of the industry's biggest names such as Microgaming, NYX Gaming Group, and Playtech who by the way announced just last week that they had acquired this company. The award was presented to Quickspin and judges were particularly impressed by the company's innovative promotional tools which have boosted retention rates for their operating partners. In 2014 Quickspin won the award for Mobile Gaming Software of the Year and Social Gaming Supplier of the Year and their Big Bad Wolf slots game was also named Game of the Year in 2013. The trophy was collected by Mats Westerlund, co-founder and VP of Products at Quickspin who said, "Winning the Innovation in RNG Casino Software award is a great honor for us and I was delighted to accept it on everyone's behalf."
Best Overall Slots Software - Yggdrasil Gaming
Best overall slots software went to Yggdrasil Gaming in acknowledgement of their market-leading portfolio of video slots. Again this was a very competitive category featuring IGT, Playtech, and Microgaming. The judges were particularly impressed by the variety, quality, and consistent excellence of the Yggdrasil slots productline. This award follows on from their success at last year's EGR B2B Awards where they were named Software Rising Star. They also won iGaming Software Supplier of the Year at the 2016 International Gaming Awards. Fredrik Elmgyist, CEO of Yggdrasil Gaming said, "Winning Software Rising Star at last year's awards was absolutely fantastic and we could only dream that a year on we would be voted Slot Provider of the Year. This really is a huge award for us to win - you just have to look at the other nominees to see what an important category it is."
Innovation in Slots Software - NetEnt
Nominated in nine categories NetEnt won a total of three awards making this a very prosperous year for them indeed. The year also included the launch of their most successful game series ever - NetEnt Rocks, as well as expansion into the regulated New Jersey market. Per Eriksson, CEO of NetEnt said, "Every year NetEnt aims to go even better than the last, designing better games with even more innovative features, and ensuring we stay at the leading edge of the industry. It's fantastic to receive outside recognition that all our hard work is paying off."
Other Noteable Mentions
There were some other noteable mentions too including Best Mobile Supplier which went to Realistic Games' mobile casino product and Best Live Casino Platform which went to Evolution Gaming's live casino platform. Playtech also won the Mobile Gaming Software award and this year's Software Rising Star award went to LOTTOTECH.