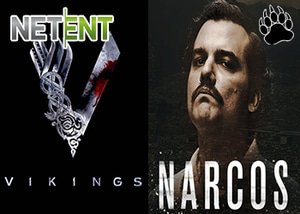 NetEnt has set the gambling universe ablaze with some exciting news: the software developer is going to create two of the most exciting slots of the year.
NetEnt is a leading software company and has earned a reputation for providing slot fanatics with diverse, visually stunning and technically sophisticated slot games. Their incredible collection of slots that ranges from movie-themed slots such as Planet of the Apes™ to playfully daring slots such as Copy Cats. In a nutshell, there's not a single creative direction that this innovative game developer cannot transform into something truly successful.
NetEnt Vikings Slot
In an exciting announcement this month, NetEnt has decided to collaborate with A+E Networks to provide slot enthusiasts with a brand-new video slot based on the popular Vikings series. So far, fans of the series have been treated to five seasons of the Scandinavian-inspired drama featuring loads of epic battles and unique storylines to keep them hooked as they patiently wait for season six with bated breath.
Although there's not a lot of information in terms of what the slot will have in store for players, Henrik Fagerlund, the Chief Product Officer at NetEnt, placed the launch date of the Vikings slot at the end of 2018. That's more than enough time to comb your beard, polish your battle axe, and await the arrival of an incredible video slot that is sure to blow your mind.
NetEnt Narcos Slot
Another TV slot from NetEnt to look forward to this year is based on the Narcos television series. Following the captivating rise and fall of Columbian drug lord Pablo Escobar during the 1970's, the hit TV series Narcos started in 2015 and managed to keep viewers glued to their screens for three seasons. Familial drama and breath-taking battles are featured side-by-side along with a scornful assessment of the Columbian government of the time, making it possible for the multi-billion-dollar cocaine trade to start in the first place.
Narcos has become one of the most watched TV series, and now slot enthusiasts can look forward to playing the slot at their favourite casino. Check out our list of top NetEnt casinos for a site that welcomes players from your region. Each of these online casinos welcomes players with a sign-up bonus. Also, make sure to visit Grizzly Gambling regularly for more casinos news, reviews and updates.