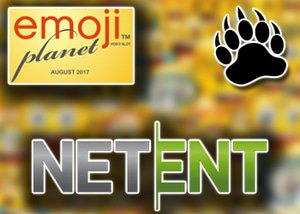 NetEnt recently announced their new innovative slot scheduled for an August release -- Emojiplanet.
Fans will get to loose themselves on Emojiplanet where smiley faces keep spirits high, and everything else is brighter, focused on fun and happiness!
The new Emojiplanet slot is a direct result of the latest content deal inked between NetEnt, Global Merchandising Services, and The Emoji Company. The new content contract was deliberately revealed at the ICE Totally Gaming show after visitors to the NetEnt stand were first entertained by an Emoji themed film. Not much has been revealed about the video slot itself, although it is planned to be available at all premier NetEnt Casinos by the third quarter of 2017.
Emoji used in the same way as emoticons enable users to add colour to messages including animals, objects and most of all facial expressions. The Emoji craze really started in Japan where mobile users used them since the late 1990s, and once these were included in iPhones, it became an international favourite.
Jens Drinkwater, the Licensing Manager at Global Merchandising Services, shared their tremendous excitement with the press and said they are truly delighted that the colourful and exciting Emoji world is about to be experienced by the online gaming community. While the planned film will entertain the younger generation, the new is perfect for great adult entertainment.
Chief Product Officer at NetEnt, Simon Hammon shared that as a leader in innovation, online gaming and mobile gaming he is sure that Emojiplanet will be the perfect theme fit for NetEnt fans. Billions of people around the globe daily use Emoji's to project their moods, adds smileys to their friend's days and in this, the emoji have become a universal language not limited by any barriers, and it's difficult to think of a more loved brand to partner with for the world renowned software developer.
NetEnt followers can also look forward to the release of Gonzo's Quest soon to be released in a 360-degree version; the new version is guaranteed to enable players to become even more immersed into the theme and will offer the same features as the popular mobile and online version. NetEnt believes that online players are ready for the next phase of gaming entertainment and with Virtual Reality technology the developer designed WebVR plugin, allowing Virtual Reality content to be displayed via web browsers. An official trailer of the new VR version of Gonzo's Quest is now available, and the first virtual reality slot is scheduled for release later this year or very early in 2018 and will be available at casinos such as Slots Magic Casino.
NetEnt also announced another branded video slot to be released in 2017 and this time it is the legendary "Planet of the Apes" video slot series after a new content contract was agreed upon by NetEnt and 20th Century Fox.