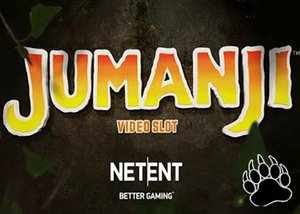 Fans of the latest Jumanji movie that was released in 2017 will be thrilled to learn that NetEnt Casinos is developing a Jumanji slot that will arrive at casinos this year.
The action and excitement of the movie will unfold into endless ways to generate amazing real money payouts. This new game is hands down the more highly anticipated slot of the year, thanks to an attractive theme and the fact that the Jumanji franchise is quickly becoming one of the biiggest in Hollywood.
Game Preview and Sneak Peek
The new Jumanji slot is based on the 1995 movie starring Robin Williams and invites players into a fascinating world of mystery by introducing them to exciting ways to win. While details of the new Jumanji slot have not been released, players will have a way to take a peek at what's in store when the game goes live at NetEnt casinos later in 2018. A preview of the game has been released on Youtube and there will be a NetEnt stand at ICE in February 2018 where more details of the game can be seen before it is released.
Jumanji Slot Features
It is unclear at this time what NetEnt Casinos will have in store for players when this new Jumanji slot becomes available. However, players will know they will be able to enjoy this thrilling slot on PC and mobile and there's no doubt that it will be one of the most popular slots at NetEnt casinos worldwide. The game will most likely offer multiple paylines, wilds and scatters as base game features. In addition, players can expect innovative bonus features. While it is not known what exact features will be available, one can expect free spins to be the highlight bonus feature that will be offered.
The Anticipated Release of the Jumanji slot
The release date of the new Jumanji slot has not yet been confirmed, but players can expect the game later this year at all major NetEnt powered casinos. One of the leading sites that will offer the game is the highly recommended Bet365 Casino. The casino may also be preparing to offer an attractive free spin bonus to coincide with the release of this new game, so be sure to watch for upcoming news that announces the date the slot will hit online casinos.