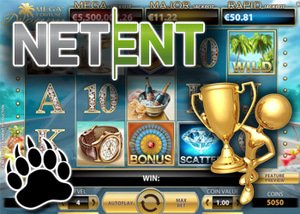 January seems to be a very lucky month for Jackpot winners.
It was only 12 months ago Jackpot fever struck bringing a life changing fortune to a lucky slots winner, and now it's starting all over again! This time, it's the leading digital gaming company NetEnt tooting their horn, as three of their European players win life-changing riches in quick succession, to become this year's first of the New Year's Jackpot winners.
On Friday Jan 15, 2016 a forty something year old Finnish player won 3.4 million Euros by betting a measly 4 euros on the popular Mega Fortune Dreams Slots game. This was followed in quick succession just two days later on the very same weekend on Sunday January 17, 2016, with a player from the UK scooping almost 2.7 million Euros on the same game. One would think that would be enough exciting activity to get the New Year underway, never mind just the month of January, however unbeknownst Lady Luck had different ideas.
Third Winner In 5 Days Scoops 1.6 Million Euros!
Just 2 days further along and part of an unprecedented 5 day lucky jackpot streak, Tuesday Jan 19, 2016 would pronounce another lucky winner over at the Vera&John casino where a Norwegian player would make up a lucky threesome by betting a derisory 4 euro cents and pulling in a windfall of 1.6 million euros in the process on the NetEnt game Hall of Gods. Who would believe such good fortune could happen in such rapid succession, just from playing slot machines?
One of the winners who was playing the Mega Fortune Dreams slots at the Maria Casino said they were playing on their laptop when the win occurred and rushed to show their flabbergasted partner. They say they still won't truly believe it until the money's in the bank, but they know they're home and dry, with money concerns and the likes, soon to be relegated to long distant memories.
It was not so long ago that The NetEnt Mega Fortune video slot held the Guinness World Record for the largest casino online jackpot ever paid out, until another gaming developer's video slot eclipsed it. However now with the Hall of Gods Jackpot still currently being the highest online jackpot around in the gaming industry, there may still be a chance they will rescue back their title. That said, it will have to climb beyond the 18 million Euro mark, that will make some player happy!