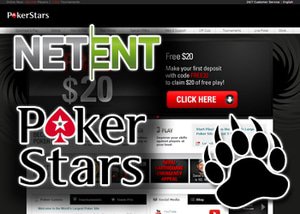 In a move that everyone knew was coming eventually, PokerStars added several Net Entertainment online casino titles.
When the Amaya Gaming Group purchased the Rational Group, the owners of PokerStars and Full Tilt Poker, they promised a number of major changes to add value to the properties. One of these chances was the inclusion of casino games. They've followed through on this promise with some of the best games in the business provided by Net Entertainment.
Redefining the Industry Leader
PokerStars has been the undisputed leader in the online poker industry for almost a decade. With that having been said, they've seen their ups and downs like anyone else in that sector, and they have came to a critical point. They are known for having the most traffic of any poker room online, but they are also known for being full of grinders and other strong players, so they have the most difficult games of any room out there. Amaya adding casino games, sports betting and other forms of gambling is a way to draw in more recreational players, which will help to lower the overall difficulty of the poker games in the long run.
The Casino Game Paradigm Shift
A few years ago, Net Entertainment was a part of a major paradigm shift when it comes to the quality of online casino games. That shift was about focusing on quality over quantity. This allowed them to compete with companies that were much more popular with many more games, and it brought about some major changes in the industry where the focus became more about how good the games were instead of the sheer number of games.
We can see this shift in action with how the casino software provider that PokerStars has chosen was Net Entertainment instead of one of the companies with a larger portfolio of titles. They're focused on giving players great games to play and an awesome overall experience, and that's a big part of what will get more recreational players into PokerStars and playing at the poker table. Overall, it's a strong strategy that will definitely help the long-term success of the brand.