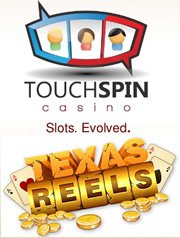 Social casinos are all about playing with friends and making new ones and TouchSpin Gaming is taking it to a whole new level with their new multiplayer game, Texas Reels.
Not only is TouchSpin right on top of the latest trends emerging from the demands of players in the social casino gambling sphere but they're pushing forward to create new demand with their latest game, Texas Reels. This new slot features a multiplayer angle that sets up to six players against one another betting in real time to increase interactivity as well as the excitement of the game. All players have the chance to hit Scatters, bonus games, power ups, and to participate in a level system which sorts out the serious players from the casual.
"Texas Reels represents an evolutionary step for casino games. We are bringing live, multiplayer excitement to slot games which have traditionally been very solitary experiences. Now you can bet against other players who see the same reels as you do. It's a real game changer. With the TouchSpin Casino gaming platform, we bring the excitement of live Vegas table gaming to slots in your mobile device," said Sherman Sall, the founder and CEO of TouchSpin.
While the game is currently only available for players who use iOS powered devices through the App Store, there are plans to open it up for the Android operating system in some markets on Google Play which will increase the player base substantially. This move is in line with what the company has always done and will continue to do in the future of this industry which currently pulls in about $2 billion annually, as shown by the company mission statement, "create inherently social, group dynamics around the slot game experience by developing unique new mechanics and compelling content."
The excitement for the new release runs all through the company with the well experienced staff and management speaking highly of their product. Gigi Levy, who used to be the CEO of 888 Gaming and now works for TouchSpin said, "I am thrilled to be involved with TouchSpin Gaming as it brings a new flavour to social casino games and represents the next evolution of the genre. Their unique approach and games, which are true social games, makes them an exciting company to follow. I think that Texas Reels and the games they have in the pipeline will attract a new audience into the social casino genre."