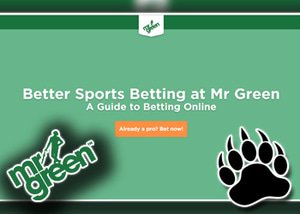 Online sports betting in Canada is about to get a major boost as the new Mr Green Sportsbook has been announced with new features and great bonuses.
Mr Green Sportsbook has been announced and Canadian sports betting fans are in for a real treat. This new venture for Mr Green comes from a partnership with Bettorlogic and the new sportsbook will have tons of extra new features to enhance customer experience. Mr Green casino is one of the most popular choices for Canadian online casino players and the announcement of this new venture has been received with great excitement.
Some of these new features include a tennis feature that will let Canadian sports betting enthusiasts set their own odds as well as being able to place bets on the very next point scored. Bettors will be able to enjoy Asian Handicap bets with options such as home win, away win, and draw. There is also a European Handicap which can be a great way to back your favourites to win big or side with the underdogs. Flexi betting is also being added as well as spread betting, and of course, live in-play options. It has also been revealed that the UK and Ireland will be the first two markets to test out the new Mr Green sportsbook and Canada will follow very shortly.
Speaking about this new venture, Jesper Karrbrink, CEO for Mr Green, said, "Mr Green's new smart sportsbook is designed to help the player bet smarter via 17,000 weekly bet prompts based on data from Bettorlogic. We call this Bet Assist. On top of this, we have also increased the entertainment level by new and cool ways to bet, like the Instant Tennis feature, Football Combi Spin, and our newly designed Horse Finder. With this, I believe we have taken our sportsbook to a new level."
Andrew Dagnall, CEO for Bettorlogic, said, "Bettorlogic are very grateful that Mr Green shares our vision that bettors should be assisted in what is predominantly an experience to be enjoyed. We are seeing the benefits of investment in our own IT team in India as it enables us to be far more responsive and cost-effective to the needs and vision of Mr Green."
The Best Bonus Deals for Sports Betting in Canada
While you wait for the launch of the new Mr Green sportsbook in Canada why not take a look at the fantastic sports betting bonuses that we have listed on our site. Our sportsbook reviews will help you find the best site for your money as well as great free bet offers, deposit bonus deals, and regular promotions. No matter what sport you choose to bet on, we have all the information you need right here on our website. We make sports betting in Canada easily with expert tips and advice, odds calculators, winning strategies and more. Find the best deposit bonuses and free bet offers for your betting need today start winning big.