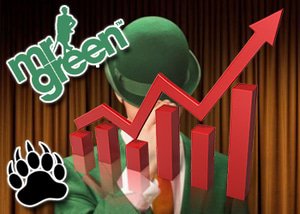 Mr Green Casino announced its quarterly results in the later part of last week and had shown an increase in traffic and profits as a result of it releasing a sports book for sports betting enthusiasts.
The sports book has been well received by customers of the casino who have requested this addition to its gaming portfolio, and with an increase of 14%, it is clear this was a good choice for the casino.
The results released reflected the three months ending September 2016. It showed an increase in profits of 14%, which is rather substantial and a clear indication that Mr Green and sports betting in Canada continues to remain strong. The translated in revenue increasing to a respectable $25.4 million, however, the actual earnings declined as a result of an increase in costs and betting duties.
In addition to the increased costs, Mr Green Casino saw the cost relating to marketing increase by 51%, which is substantial yet, allowed them to increase market share as a result of the marketing undertaken by the company and adding to the decline was extra cost relating to personnel, which translated to 28.4%. The reason for the extra cost directly related to the sportsbook addition in June and also had an impact as they prepared for the live dealer casino. Yet, even with the decline in profit due to those costs, good news far exceeding that of bad as the casino saw a 39% increase in player activity and acquisitions, and furthermore saw a record in player deposits of 21%.
Recently, Mr Green altered how it monitored its revenue. This came as a result of it splitting up its operations into four regions, and as a result, each showed its own revenue totals and respective profits. The Western European operation reported a 37.2% increase as did the Nordic region reporting 38% of all income for the company.
What is clear is that Mr Green is well on its way to establishing itself as a powerhouse for the Nordic region but also other markets. They offer a substantial amount of games and includes a casino, live dealer games, sportsbook and offer a strong range of promotions that have been well received by players in the markets Mr Green operates within.