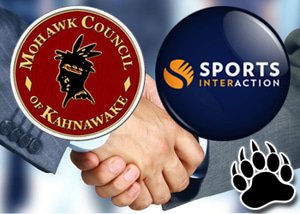 Regulation and licensing isn't the only thing that the Mohawk Council of Kahnawake will be involved in, and they're turning to the operation side of the things with a new deal.
On the surface, it would look like there are obvious, shallow reasons for the new deal between Sports Interaction and the Mohawk Council of Kahnawake (MCK). MCK has entered a deal where they will get into the business and operating side of Internet gambling with Sports Interaction. This comes after months of debate and negotiations, and it also comes after Sports Interaction has been under a Kahnawake Gaming Commission License for over 15 years. With that having been said, the deal reflects on a much deeper situation.
Major Tension Continues
Back in 2008, the Truth and Reconciliation Commission was formed to look into the residential schools system that brought Aboriginal children to schools further south. This system involved more than 150,000 students being moved, ages five and up, and it's known for horror stories of abuse, both sexual and physical. A few thousand deaths have been blamed on the system that ran up until 1969. A final report came out from this commission, and its findings were not good at all for the government. Noteworthy is that one of its key findings was that one of the best ways to improve the situation was to give Aboriginal groups the ability to build up economic projects with long-term sustainability.
The Logical Solution
This deal with Sports Interaction is a good example of the type of economic projects the report has referenced. In fact, it's a pretty logical extension of what Kahnawake has been doing to date with licensing online gambling operations. They seem to have a pretty good grasp of what it takes it be successful in that area after seeing so many companies come and go, and that indicates that they should have all of the opportunities in the world to succeed. While it's not a given that they will succeed, what is a given is that they should be given a chance to prove themselves, and it'll be interesting to see where the deal goes from here on out.