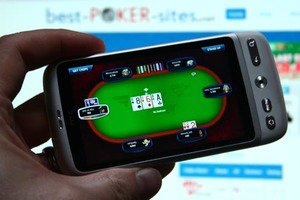 You can't say that Jeffrey Haas is not a man of vision and optimism.
As the head of poker operations for PartyPoker, he has to be. And one of the things that is producing a lot of optimism for him these days is the state of the game of poker relative to the platform the game is played over.
Haas, in speaking at a World Poker Tour event, has revealed that right now about four percent of his users are taking part in PartyPoker's game through their mobile device, but that he expects a very huge uptick on that figure. In fact, he actually says that he would not be at all surprised if the figure got up to, in his words, "25 to 30 per cent of all players by the end of 2014, if not more."
That is a very bold statement, and although we recognize that there are no repercussions if it is not true, it does say and awful lot about he direction this business is going in. It does stand to reason that since people are a mobile sort to begin with, they are going to want a way to play "on the go." And since they are in possession of some mobile device, or have one nearby, for most of the day, they are going to want to take part in their favorite games that way.
The mobile app for poker takes care of that. It would not be unfair to say that when it comes to the sheer size of an audience, PartyPoker probably ranks third to PokerStars and Full Tilt Poker. And so the company has to know where the customers are going to be and get there first. One of the ways they did this was to develop an app for the Android phone, which was its first inroad into mobile poker. The apps for the iPhone and iPad followed. So let's just say that they have most of the territory staked out already. Aside from the iOS app, there is an HTML application that can be used by those who possess other mobile devices.
It's all about a strategy of knowing where your customer base is going to head, and being able to serve them when they get there so that they don't have to look somewhere else.
Haas also thinks it's important to know the distinction between the two worlds - that of online poker and that of mobile poker - when it comes to the playing habits of the customer. What he has recognized from looking at his own customer base is that it tends to have shorter playing sessions but larger wagers. Ye, that probably means that they are in more of a hurry, for any number of reasons. First, if they are out and about that means they are going somewhere. Also, they are dealing with distractions from people and things around them, and that can have a tendency to abbreviate a session.
But they still want to get their money across the table, don't they? And Haas thinks they will be doing it at a much greater rate on a mobile basis from this point forward.