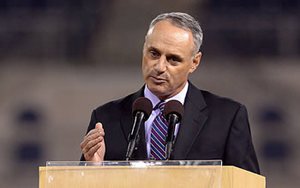 With the NBA Commissioner already on board, the weight of the addition of MLB's support for legalized sports betting in the US may be starting to tip positively.
Since Adam Silver, Commissioner for the National Basketball Association, put in his positive support for the legalization of sports betting and gambling in the United States in November 2014, the cause has needed another weighty voice to support it. He made his support well known with an Op-Ed in the New York Times and has been carrying the banner forward in an effort to bring together the leadership from the other national sporting leagues.
It appears that his efforts have not been in vain with Rob Manford, Major Leage Baseball Commissioner, has now stepped forward to say that fresh consideration should be given to the issue of whether or not the country should allow wagering on sporting events. He gives credit for his words to Adam Silver by saying, "without embracing everything he said, certainly the idea of having a federal system to govern gambling, whatever that system is, uniformity at a federal level seems like a pretty good idea to me."
While his organization has traditionally been in the opposite corner from those that want to see sport wagering become a regulated reality, there are still talks that need to happen internally before the MLB's position is completely set in stone. "Gambling in terms of our society has changed its presence on legalization. I think it's important for there to be a conversation between me and the owners about what our institutional position will be."
There are certainly revenue opportunities being missed out on as people continue to place their bets, whether they are legal or not. For just one event, the Super Bowl, held in February 2015, The American Gaming Association placed an educated estimate on how much money changed hands. $3.8 billion was spent wagering on the outcome on the largest finale in North American sports.
This push seems to be gaining traction and momentum and now these already weighty organizations that stand in favour of legalization could use more support in order to push regulating bodies in the right direction. Only time will tell if the National Hockey League Commissioner, Gary Bettman, and National Football League Commissioner, Roger Goodell, will speak up and put the weight of their organizations to providing strong and solid support behind the movement.