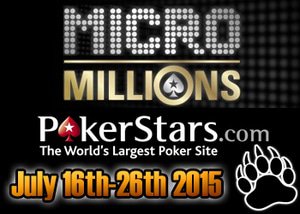 The low stakes tournament series MicroMillions has returned to PokerStars for a run through the middle of July.
Starting on July 16 and running through July 26, the MicroMillions Championship series of tournaments will be running on PokerStars. This will include an overwhelming $5 million in guaranteed prizes with 100 different individual events available for the series. This series has been running each year since 2012, and it currently holds the record for the most total entries into a tournament series since they picked up over 13 million players one year.
How This Online Poker Series Got So Big
The key factor in this tournament series is that it's designed to be accessible to even the lowest stakes players. The stakes for the individual events typically run from $0.11 to $22, and there's an extremely wide range of tournament formats, many of which are only regularly available on PokerStars. This includes a wide range of blind structures, knockout structures and other atypical ways to play other than the typical freezeout or rebuy formats.
The Newest Addition to the Lineup
Because the entry fees are so small for these events, and because the guaranteed prize pools are so large, they attract tons of players. These events end up taking a lot longer than what's typically considered reasonable for a single day of play, and that's why many of them have turned into what they're calling phased events. This just means that play will stop after a certain amount of time and resume on another day. There's a new $1.10 no-limit hold'em event happening in this year's series with a $75,000 guaranteed prize pool that's going to use the phased format.
Railbird Action
Just because it's played for small stakes doesn't mean that you won't have plenty of opportunities to spot big-name pros. Randy Lew, Marcin Horecki, Fatima Moreira and Ivan Demidov have all indicated that they're looking to enter events in this year's MicroMillions, and it's always a good spot for publicity for other big name professional players to show up. This means that you'll never know who's going to be playing regardless of the format or entry fee involved.