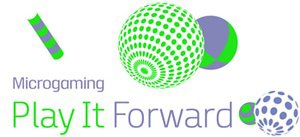 Microgaming has shown once again that they are a major leader in the industry by giving more donations through PlayitForward.
The online casino industry is often the target of attacks for taking money out of local economies without giving anything back in return. This is definitely not the case with all companies, and Microgaming has shown this in a major way over the years. They've done it yet again through the PlayitForward program after a vote of clients and other associates determined which charities they would donate to in a special move that affects people across the globe.
The way this vote worked is that those asked to participate voted to choose a charity from four different parts of the world. For Africa, the winner was Medecins Sans Frontieres. Change Heroes was the winner for Asia, White Ribbon won in Australia, and Hospice Isle of Man won for the "Rest of the World" category. Each donation was worth £7,500, and while some people might think that this isn't a lot in the grand scheme of things, it's important to realize how the PlayitForward initiative works.
PlayitForward centers around three major areas they believe help to build and support a strong society: health, education and sport. Tons of sponsorships and other donations are given to a wide range of causes through this program, and the £7,500 donations by vote listed above are just one part of a huge program. For example, they have sponsored gifted students to be able to go to university, and they've also sponsored rising sports starts. In addition to these sponsorships, they've raised a lot of money for several charities, not just the ones listed above.
This initiative shows that Microgaming is a leader in the industry in a lot of ways people don't realize. It's not enough that they have been one of the top dogs since the beginning of the online gambling industry as a whole. Instead, they are leading the way in innovation both in their software and in their activities in the real world. In addition to the Microgaming Health & Care Trust and a number of other programs they are associated with, they give back in a major way.