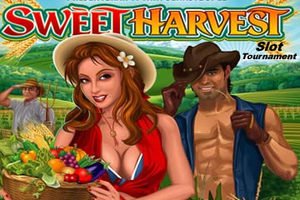 The newest addition to Microgaming's list of titles is the Sweet Harvest tournament slot.
The changes that we have seen in the online slots world over the past 18 months have largely been in two directions. The first is mobile, and the second is tournaments. More tournament events and games specifically designed for the tournament environment have been available than ever before, and Microgaming has largely been leading the charge on this. Their approach right now is to add at least one new tournament game per month, and the game for the month of August was a restructured version of a game that came out in late 2013.
The Sweet Harvest tournament slot is based on the original Sweet Harvest game, a 20-payline experience with five reels. It has a fun farm theme that features a great background with music that makes sense and plenty of ways to get paid. You'll see all kinds of symbols on the reels that fit this concept along with stylized A, K, Q, J and 10 symbols that also fit the story that they are trying to tell here. It has a free spins bonus feature with chances to get some bigger payouts, and this helps to round out the payout structure.
In the tournament version of this game, the major changes are all about the multi-player experience and running up points inside of a tournament leaderboard system. They used this tournament for the August Accumulator, an event that starts with a $500 prize pool. You can enter for $1, and this will add even more to the prize pool. You'll go through your set of tournament chips trying to run up as many points as you can. When you're finished, your points put you on a leaderboard, and the top spots on the leaderboard win prizes. It's that easy.
Microgaming's approach to tournaments is great for Canadian players because they have everything that you need to enjoy some of the hottest tournaments in the industry. Their sites accept Canadian dollars directly without having to deal with irritating currency exchanges, and they pay out the same way. On top of that, they are offering some of the biggest tournaments of the year including the $175,000 Reels de Janeiro event earlier this year for the World Cup. It's a great time to be playing at Microgamingif you like slots and if you love competition.