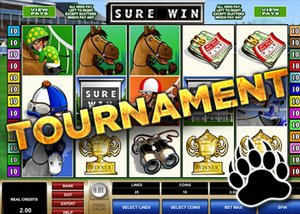 The Sure Win Slots Tournament from Microgaming is coming soon and guarantees 100's of cash prizes for lucky winners.
This Microgaming slots tournament is a month long online event and it will be starting very soon. The tournaments is going to be split into four individual weeks which are being called furlongs. At the end of each week a total of 50% of the players will be eliminated, while the remaining 50% of the players will get to progress into the next week.
There is only one game involved in this month long slots tournament and this is the Sure Win slot machine. If you are playing in Canadian dollars, the amount of cash that you can win will be converted into Canadian dollars at the exact rate of exchange when you win.
This freeroll Sure Win slots tournament has a limited number of seats available and if you want to take one of them you need to register now.
You can register at Jackpot City Casino, Royal Vegas, and Maple Casino which are two of our top recommendations for Canadian players. The minimum wager throughout the event is set at 1 coin and the maximum wager per spin is 500 coins. All players start the tournament with 10 minutes of play time and 17,500 coins. It is also possible to purchase rebuys and continue playing. Players can purchase as many as 5 Continue Play Options at a cost of $2 each, but you can purchase as many as 50 Rebuys at a cost of $3 each. Each Continue Play will get players an additional 10 minutes of play time and 10,000 more tournament coins. Each Rebuy also gets players another 10 minutes of play time and 17,500 coins.
The first week of this Sure Win slots tournament begins on Monday the 4th of July and will end on Sunday the 10th of July. The second furlong will then commence on Monday the 11th and end on Sunday the 17th. The third furlong is from Monday the 18th of July until Sunday the 24th and the final furlong will run from Monday the 25th of July through to Sunday the 31st of July.
There is a guaranteed $10,000 prize pool up for grabs and the top 100 players will each receive a $100 cash prize.
This is a Microgaming slots tournament that you won't want to miss out on. Canadian players can play at any of the Microgaming casinos open to them such as Jackpot City, Maple Casino and Royal Vegas Casino. The slots game you will be playing is Sure Win and this is a 5 reel, 25 payline horse racing themed video slot. It comes with a wild symbol, free spins, multipliers, and more.