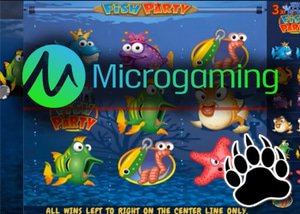 Microgaming are about to release Fish Party a progressive jackpot style Sit & Go tournament. They will launch on the MPN network on the 12th of July.
The progressive jackpot style Sit & Go tournament is called Fish Party (and played on the same Fish Party slot machine) and it takes its inspiration from the Microgaming slots game brand of the same name. Unlike the slot game, Fish Party Sit & Go is going to feature a progressive jackpot top prize that will be up to and in excess of $1 million for high stakes players.
You can take a sneak peek at the new Microgaming Fish Party Sit and Go Tournaments in the video below.
In an interview with Ingram, a Microgaming spokesperson said, "We're taking everything we know about slots games, and building that into Fish Party Sit and Gos. MPN will switch up this fixed structure with a progressive top prize that is constantly growing and constantly getting better."
He went on to say that the MPN is using its expertise in slots games to bring extra excitement to these new lottery-style Sit and Go tournaments. It is going to be dramatic and very exciting for players who choose to get involved.
The jackpot style Sit & Gos are fast structured, three handed tournaments with a hyper-turbo blind structure and tiny starting stacks. The idea behind these is to get them over quickly so players don't get bored. The last player left standing will usually win a prize at random, and this will be decided at the start of the tournament. These lottery style or jackpot tournaments are usually very attractive because they offer players a chance to win huge amounts of money for a small buy-in fee. The prize pool is usually secret until the game is about to begin.
With Microgaming's new Fish Party variation the payout structure will be fixed in a payout table that is progressive. Rather than the top prize being a set number times the buy-in, it will start at a certain level and increase as long as the random number generator doesn't spit it out.
The structure will be set so that the progressive jackpot for a $50 buy-in tournament will grow to $1 million. There will be no limit to how big the top prize can grow but players can expect it to be at least $1 million.
The largest buy-in that will be available at the launch of Fish Party will be $50 and there will be smaller buy-ins too. These smaller purchases will have smaller progressive jackpots. Each buy-in level will have its own jackpot.
Just like slots have an RTP percentage, Fish Party Sit and Gos will have too. In this case, it will be a 95% RTP. Fish Party will have a 5% rake across all buy-in levels which will set it as one of the lowest in the industry.