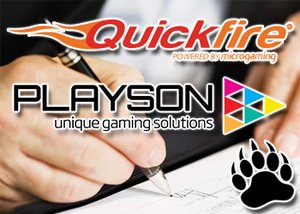 Playson the gaming software developer from Malta have announced that they have just entered into distribution agreements with Quickfire, and Iforium.
Under the terms of the agreements, all of the HD slot content from Playson, will go live with Iforium's Gameflex, as well as the Microgaming powered platform Quickfire, and will now be made available to all their international gambling operator networks.
HD Games Expected To Be Launched In Very Near Future
The necessary technical integration required with the Microgaming platform has now been completed and the games are expected to be unveiled any time soon. Titles that have already been integrated to the Quickfire platform include Wild Hunters, Dracula's Family, Alice in Wonderslots, Lucky Pirates, etc.
Managing Director of Playson Adam Daniel, commenting on the new partnership agreement, said that it was extremely exciting for the company to eventually bring such a project to the release stage.
Mr Daniels further commented on how Quickfire also had unmatched market penetration, and that their team had been particularly cooperative and responsive throughout the entire integration process. He added that his company were now looking forward to building upon their momentum, following on from the release of their games on Quickfire's gaming platform.
Head of Quickfire at Microgaming Tom Chamberlain said that it was great to be involved with Playson as a development partner.
The company official went on to say that the process of integration was speedy and entirely hassle-free, and now their gaming platform has complete access to the Playson gaming title catalog. The games will now be available to feature at all of the 400 online casinos that are currently live on Quickfire.
As previously mentioned it was also announced that after this successful system integration, all of Playson's gaming titles will at the same time go live with lforium, a fellow gaming software developer of online games.
MD Adam Daniel said that they are delighted to be working with the company providing their games, and that they had been suitably impressed with their new partner. The online gambling titles are due to launch, and will become available to all lforium customers in the months ahead.
CEO of lforium Phil Parry expressed his delight with their Gameflex casino platform joining Microgaming, becoming the latest partner working in conjunction with Playson.
He went on to point out that with the addition of this product offering from the Malta-based company, their portfolio would be enhanced as it now has more than 3500 games, and they look forward to distributing this new content via their Gameflex platform.