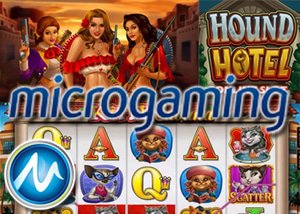 Microgaming hits the mark again with three brand new releases themed to appeal to cat and dog lovers alike and the adventurous types who dare set foot in the Wild West.
Canada's industry leading software developer Microgaming is turning up the heat on their competition this summer with three June video slot releases announced. The first is Kitty Cabana, a five reel, three reel game with fine furry felines running a luxurious spa. This colourful game features 25 fixed pay lines and will make players feel relaxed as they indulge themselves in the simple pleasures in life. Get ready to spin for the chance to build a score multiplier up to six times, take a rest with up to 24 free spins, and keep an eye out for the FIVE Wild symbols that are offered.
Microgaming Works Like A Dog To Stay On Top
Feeling relaxed after your time at the spa? It's time to check in with the high class pooches running a luxury establishment in Hound Hotel. This game also has a 5 reel, three row, and 25 pay line build but changes up the formula with different ways to win. Dashing Wilds, free spins, and more will make sure players feel like they're barking up the right tree. Without a doubt, these new pet themed games show more than ever that Microgaming works like a dog to stay on top of the casino software industry.
Last but not least, get ready to step into the Spanish Wild West with the sexy and deadly ladies of Pistoleras. Hitch your wagon to the Free Spin mode by catching three Scatter Coach icons at once, hit a big win with tree of the game's title symbols, and scratch that itchy trigger finger in the target shooting mini game that offers bonus prizes to the fastest and most accurate guns in the West.